Stage AE Parking
There are many parking lots and parking garages located only minutes walk from Stage AE.
Parking is not included in the price of your ticket.
Parking will unfortunately cost extra and price depends on where you park.
Stage AE staff recommends that you use mass transit or ride share services to get to the venue, as show nights can be busy. But if you are driving up yourself, then your best bet is to leave at least 90 minutes before the show. You'll find the best directions if you put in the following address into your GPS device or map making app:
400 North Shore Drive Pittsburgh, PA 15212
Heinz Field Parking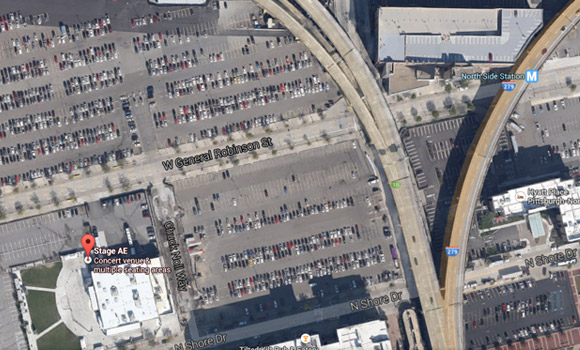 Stage AE is located next to Heinz Field stadium which has a capacity for 65,000 people. As a result, and as you can see from the image below, there is plenty of parking!
Once you arrive, you'll find plenty of parking next to Heinz Field. The venue is also within walking distance of numerous public parking lots and garages. We recommend bringing cash and credit as prices and accepted payment may vary between parking options.
Accessible Parking
If you require accessibility parking, then please call the venue ahead of time for assistance with finding useful options. The staff will do their best to direct you to nearby parking options. Otherwise, you may want to consider a drop-off or pickup near the venue. The venue staff will be able to guide you to the best places for drop-off and pick up if you call (412) 229-5483.