The Stage AE | Pittsburgh, Pennsylvania
Psychedelic jam bands Widespread Panic & Umphrey's McGee have teamed up for an unpredictable, mesmeric experience like no other! Let these phenomenal masters of improvisation take you to colorful new places as they exhibit their craft in this amazing, immersive show! The musical wizards will be heading to Stage AE on Sunday 21st June – make sure you don't miss this one!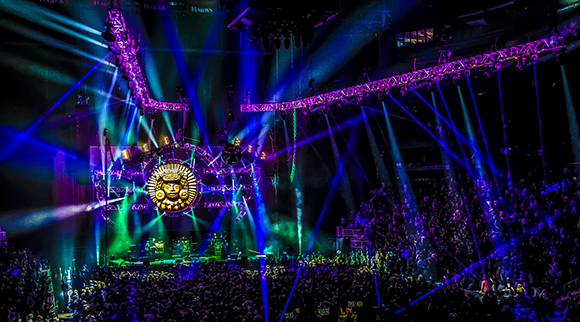 With their impromptu approach to creating music, both in the studio and live on stage, jam band "road warriors" Widespread Panic have received a passionate response from crowds all over the world and have made themselves a following where ever they go. Originating from Athens, Georgia, they met at university where they started collaborating. Since their inception in 1986, Widespread Panic has ascended to revered status among American jam bands for their improvised fusion of Southern rock, blues-rock, progressive rock, funk and hard rock.
Umprey's McGee have a rare, experimental sound which cannot be pigeonholed. After just 8 months together, the band released their ironically titled debut album Greatest Hits Vol. III in 1998. By the tail end of that year, the band had released their first live album, Songs for Older Women, and had adopted a large following in their local area, playing at house parties and colleges. Over the years they honed their improvisational skills and started playing further afield, making a name for themselves as a dynamic, prolific band with a dedicated following.