Stage AE | Pittsburgh, Pennsylvania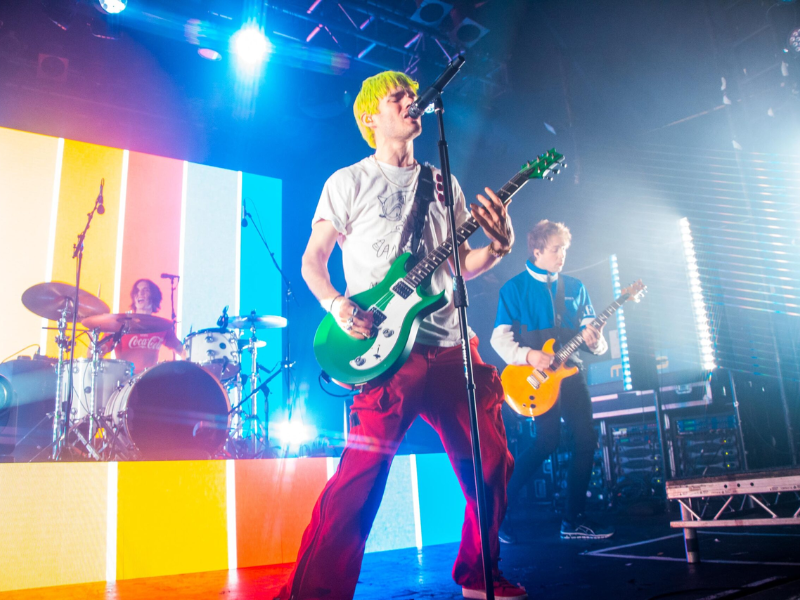 Waterparks' "SNEAKING OUT OF HEAVEN" tour will bring a whirlpool of rock and pop-punk to Stage AE on Saturday, March 16th! This new nationwide engagement, featuring special guest Loveless, follows the band's latest international show with a 22-stop schedule across North America. Waterparks, a multi-awarded group composed of Awsten Knight, Geoff Wigington, and Otto Wood, defy genre boundaries, experimenting with innovative sounds in their latest album, Intellectual Property. The trio's journey began in 2012 with three EPs, leading to their critically acclaimed debut album, Double Dare. Follow-up albums like Entertainment, Fandom, and Greatest Hits would later make waves in numerous Billboard rankings, including Alternative and Indie charts. Overall, we owe them countless classics, from "Gloom Boys" to "Lucky People" to "Turbulent." Pittsburgh's premier music venue, Stage AE, will host the event and guarantee a Saturday night to remember for Waterparks' loyal fans through its exceptional acoustics and ambiance. Reserve your seats today by clicking the "Get Tickets" button above!
Savor the rockin' rhythms and pop-punk perfection of Waterparks as they unleash a second wave of national shows, now with special guest Loveless! The "SNEAKING OUT OF HEAVEN" tour, named after the band's latest single, will open in 2024 following a three-month break from their last international "Property Tour" gig. Kicking off in February, the trip will visit 22 cities coast to coast, including a Stage AE appearance this Saturday, March 16th.
"Waterparks never fails to put on a good show, whether it's a headliner or even an in-store acoustic performance. Their energy is always through the roof, and their very devoted fans always match or exceed it. I already can't wait for them to tour again!"
The Waterparks trio are going beyond their punk roots, experimenting with glitchy new sounds and blaring confessions through "SNEAKING OUT OF HEAVEN," the smash hit from their latest studio album, Intellectual Property. Featuring frontman Awsten Knight, lead guitarist Geoff Wigington, and drummer Otto Wood, the eclectic band defies genre labels in show-stopping fashion, which earned them Alternative Press Music and Rock Sound Awards for Best Breakthrough Artist in 2017.
They kickstarted their career with a trifecta of EPs two years apart starting in 2012—Airplane Conversations, Black Light, and Cluster. Their first album, Double Dare, is a Billboard #10 Top Heatseekers hit that featured stadium anthems "Gloom Boys" and "Dizzy." Their three subsequent ones, Entertainment, Fandom, and Greatest Hits, consistently ranked high in Billboard's Rock, Alternative, and Indie charts, introducing classics like "Lucky People," "Turbulent," and "Snow Globe."
Ushering in a new era of emo, Loveless steps up with a string of opening performances to support our main act. They took over Billboard with a cover of Elley Duhé 's "Middle of the Night" and their recent End Of An Era EP, featuring the "Worst Case Scenario" original single.
Official setlists are TBD. Here's one from a recent concert for a potential sneak peek!
Numb
FUNERAL GREY
[Reboot]
Sneaking Out of Heaven
FUCK ABOUT IT
REAL SUPER DARK
Turbulent
Pittsburgh's leading destination for all live music entertainment will be hosting the double-bill occasion on March 16th. The Stage AE, popularly known for its indoor hall AND outdoor amphitheater, offers a finely tuned acoustic environment where Waterparks and Loveless can play to their full potential. The lights are alive, and the atmosphere is intimate. It's a Saturday night you shouldn't pass up, so buy your tickets ASAP!