The Stage AE | Pittsburgh, Pennsylvania
The strange days are over! As these English rock men, The Struts, calls you to rock on at Stage AE on Sunday, 12th September 2021, performing live on their Strange Days Are Over Tour. "Strange Days" is the band's third studio release, where they boldly take on the road forward bringing glam rock, energy, and hope. Heavily influenced by the likes of Queen, The Rolling Stones, Michael Jackson, The Killers, and many more, The Struts brings the touch of glam to the music scene with favorite hits such as "Could Have Been Me", "Body Talks", and "Bulletproof Baby", delivered with a magnitude of electrifying energy on stage. It's the time to rock on and celebrate with The Struts, book your tickets now!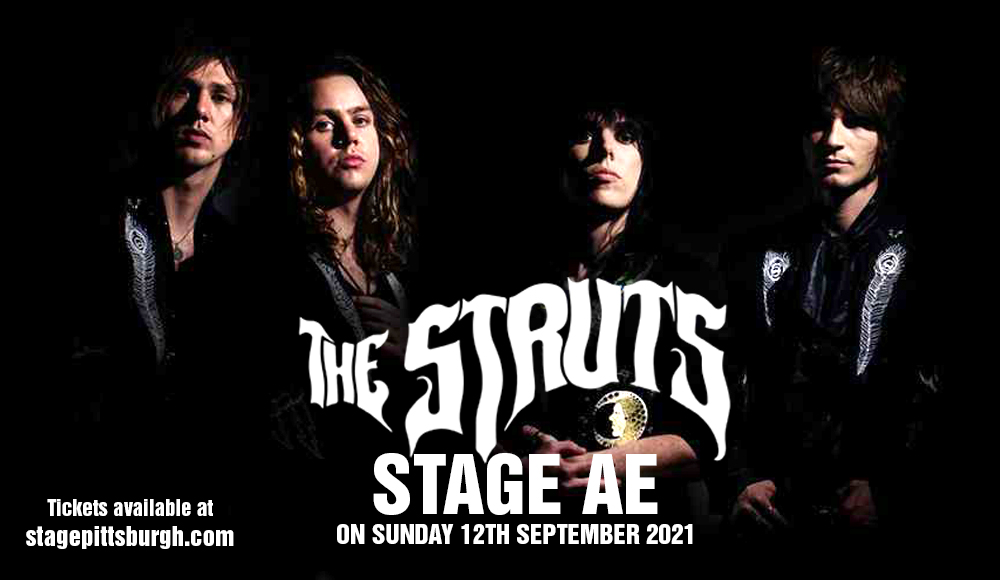 In his early days mostly surrounded by gospel music, the energy sparked for Spiller as he discovered Michael Jackson, and soon started listening to the likes of Led Zeppelin, AC/DC, Queen, and many more. Lead-vocalist Luke Spiller began with local gigs for various bands before he met Adam Slack who is currently the band's guitar player, and they began writing and recording.
The Struts finally came together by 2012, a nameplate taken from a comment heard saying 'you strut a lot', which has become the band's signature element as fans rock on to their energetic gigs. Current members include Luke Spiller as lead vocalist, Adam Slack on guitar, Jedd Elliott on bass, and Gethin Davies on drums. They've opened for notable acts such as The Who, The Rolling Stones, and the Foo Fighters.
Having numerous singles from 3 studio albums and 3 EPs, some crowd favorites include "Could Have Been Me", the lead single from the album "Everybody Wants", which topped Spotify Viral Top 50 and iTunes rock singles charts, and the US alternative and active rock charts; "Body Talks", from their second album "Young and Dangerous", also came with a remix collaboration with Kesha. Across their discography, the English rock men showed their road of glam rock craftsmanship to this date.
The English rock men prove that rock is timeless with exciting energy at its core. With glam rock, powerful vocals, exquisite outfits, matched with captivating stage presence, The Strut's gigs have always been fan favorites. Book your tickets now, and rock on with The Struts on Sunday, 12th September, 2021 at Stage AE.