Stage AE | Pittsburgh, Pennsylvania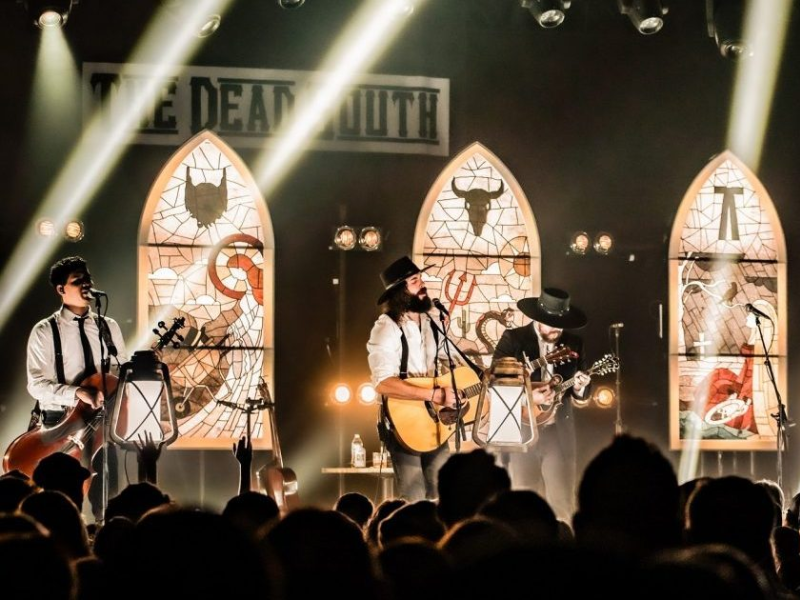 Embrace the vintage sound of bluegrass with The Dead South this Tuesday, February 13, as they light up the Stage AE complex! Nate Hilts, Colton Crawford, Scott Pringle, and Danny Kenyon have set up a twelve-show stint to start their year here in the United States before they embark on their new Australian tour. Debuting in 2012, The Dead South made waves with their first EP, "The Ocean Went Mad and We Were to Blame," and later with their acclaimed studio albums, including "Good Company," "Illusion & Doubt," and "Sugar & Joy." Their rebellious punk rock ethos blends perfectly with traditional bluegrass, delivering a headbanging sensation you'll immediately feel in hits such as "Broken Cowboy" and "Banjo Odyssey." Recognizing their prowess, the group received numerous accolades, including two highly esteemed Juno Awards. Stage AE, made famous by its top-notch facilities and breathtaking light shows, will host the event in the lively city of Pittsburgh, Pennsylvania. Click the button above to secure your seats for The Dead South concert LIVE!
Descend into a night celebrating the string music of yore in The Dead South's upcoming year-starter concert! The folk-bluegrass ensemble has announced twelve US dates for their touring calendar, covering much of February before heading to their overseas Australian tour. Kicking off in Cleveland, Ohio, the group will follow up with a second-day show in Pennsylvania's renowned Stage AE entertainment complex on Tuesday, February 13.
"Gritty and remorseless, The Dead South is bluegrass for headbangers. It's the type of music that seeps into your bones, transporting you back in time to dusty one-horse towns. You don't know how it happens, but you find yourself stomping your feet and slapping your knees to the boisterous beat, unable to look away."
Join lead vocalist Nate Hilts, mandolinist Scott Pringle, banjoist Colton Crawford, and cellist Danny Kenyon in one of the year's most anticipated events in the bluegrass scene. Often dubbed "Mumford and Sons' evil twins," The Dead South invokes an exquisitely dark image of the old Western aesthetic. They continually challenge genre conventions with gritty vocals, aggressive string play, and a defined "punk rock ethos" that turns the trademark bluegrass energy into headbanging adrenaline.
The group formed in 2012, releasing their first EP, "The Ocean Went Mad and We Were to Blame," a year later. In 2014, they dropped their debut studio album, "Good Company," which earned them international acclaim via several overseas tour performances in the two years that followed. The Dead South would later release several other music collections, including the Juno Award-winning "Illusion & Doubt" and the Billboard US Bluegrass no. 1 album "Sugar & Joy."
No official setlists have been announced for the upcoming tour, but here's one from a recent show for a potential glimpse.
The Recap
Blue Trash
Boots
Dead Man's Isle
One Armed Man
Black Lung
Twenty Mile
The Good Lord
Diamond Ring
People Are Strange (The Doors cover)
Tiny Wooden Box
Travellin' Man
That Bastard Son
The Dead South
In Hell I'll Be in Good Company
Honey You
ENCORE
Broken Cowboy
Banjo Odyssey
Stage AE—the cultural center of Pittsburgh, Pennsylvania—will host the visiting four-piece ensemble. Equipped with the finest concert facilities, this multi-purpose complex is split between an indoor hall and an outdoor amphitheater, both offering wide-coverage acoustics. Immensely popular for its stunning light shows and immaculate stage, Stage AE presents a one-of-a-kind backdrop for The Dead South's concert this Tuesday, February 13. Tickets are selling fast - buy yours now!