Stage AE | Pittsburgh, Pennsylvania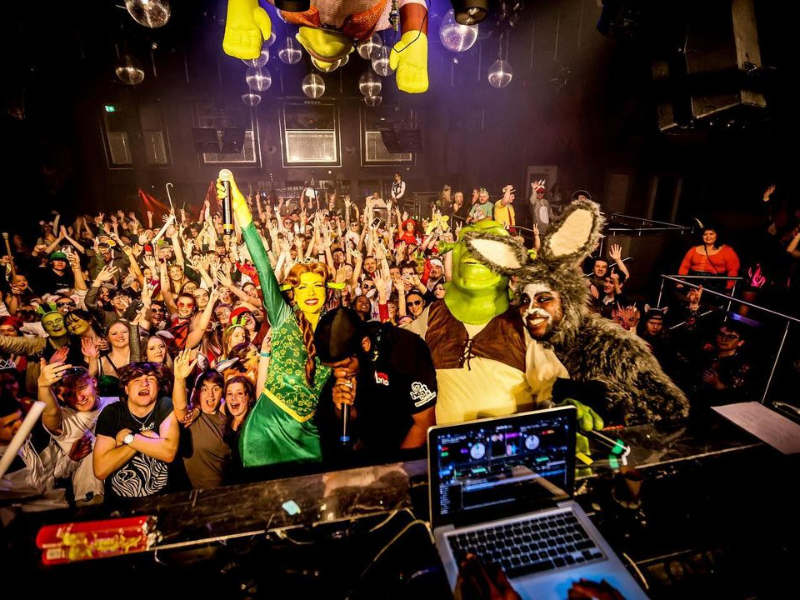 All that glitters is green. You're all invited to The Shrek Rave, a hype fairytale party that will draw everyone towards the Stage AE on Friday, November 17th! Ready to hear more Smash Mouth hits that made it to the big screen? Thirty new dates have been announced for this year's Shrek trek so prime yourself as a high-energy lineup of DJs will spin the grooviest tracks to keep your party spirit soaring for five straight hours! With the tagline - "It's dumb, just come have fun" - the event speaks for itself. If you're worried about looking hip, throw those thoughts as Far Far Away as possible and start Livin' la Vida Loca because cool is officially dead! Just remember that all you need to do is head down to the Ohio venue and have a blast like everyone else! Don't wait in the swamp, grab your tickets now, and let's make some Shrektacular memories together. Doors open at 9:00 p.m!
The Shrek Rave is partying all the way to the Stage AE in Pittsburgh on Friday, November 17th. In a recent Instagram post, they officially confirmed new dates for major venues in Hawaii, Florida, Washington, California, Ohio, Arizona, and more starting in early October. An additional 30,000 attendees are anticipated to participate in Shrek events throughout the country in the coming nine weeks, followed by an extended tour across Europe, from Oslo to Athens.
Shrek Rave, a raucous comedy-fantasy costume extravaganza inspired by the 2001 CGI fairytale film and its sequels, is truly something else. At this event, the swamp transforms into a lively mosh pit, where remixes of "All-Star" by Smash Mouth are reported to blast through the speakers twice every hour. Other popular tracks that have been featured in the film are "Holding Out for a Hero," "Accidentally in Love," "I'm A Believer," "Livin' La Vida Loca," and many more.
"Just like onions – and ogres – the Shrek rave has layers. On one level, it's a fun excuse to get silly and indulge in cringe and childhood nostalgia; a green-coloured two-fingers to pretentious clubbing. On another level, there is a deep-rooted sense of camaraderie and joy all night long." Time Out shares.
Last year, the internet witnessed the viral spread of Shrek Rave memes on various social media platforms. A single video recap garnered an impressive 780,000 likes, while the hashtag #ShrekRave amassed a staggering 50 million views on TikTok. Notably, every major city in the United States embraced its very own Shrek Rave event and towards the end of the year, the phenomenon even extended its reach to Canada.
By the spring, DJ and renowned rapper Ka5sh had successfully organized up to six Shrek Rave events every weekend throughout North America. Backstage at Toronto's Opera House, he mentions, "I don't want everyone to have the exact same experience. This is a living, breathing thing. You can come to this one, and if we come back again, it's going to be different. But you're still going to have the same level of fun each time."
Without a doubt, the Stage AE is not like any other venue you've come across. With its distinctive natural atmosphere and state-of-the-art lighting effects, this stage is the ideal choice for the greenest and whackiest rave of the decade! Purchase your tickets to Shrek Rave for November 17th now!