The Stage AE | Pittsburgh, Pennsylvania
Rambling string band Old Crow Medicine Show bring their romantic, old-time Americana to Stage AE on Wednesday 29th July! The traveling troubadours are a hit with old and young alike and as their Appalachian-influenced harmonies touch your heart, their plucked out rhythms will have your feet a-stompin' for sure!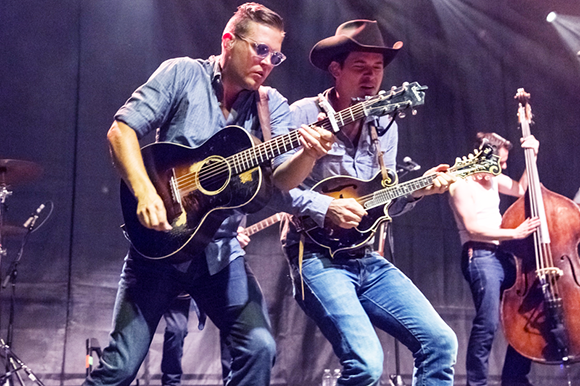 Paving the way for acts like Mumford & Sons, and contributing heavily to a revival of banjo-picking Americana string bands, Old Crow Medicine Show have been bringing old-time music to a new audience since their formation in 1998. Discovered while busking by legendary bluegrass musician Doc Watson in 2000, it was the catalyst they needed to make the move to Nashville. In Nashville they were "embraced and mentored" by Marty Stuart, the president of the Grand Ole Opry, and their Grand Ole Opry debut was at the Ryman Auditorium, "The Mother Church of Country Music", in January 2001. Their eponymous debut album was released in 2004, including their now signature track "Wagon Wheel", a song formed around a rough sketch found on an unreleased Bob Dylan bootleg. The group's version of the song was certified platinum by the RIAA in April 2013, and it has been covered many times, most famously by Darius Rucker in 2013, who made it into a number one Hot Country Songs. They have released five critically and commercially successful studio albums and were officially inducted as members of the Grand Ole Opry in 2013.