The Stage AE | Pittsburgh, Pennsylvania
Bringing you super fun, in-your-face, indie-pop party vibes, Matt and Kim are headed to Stage AE on Friday 18th October 2019 to celebrate the ten year anniversary of their 2009 album Grand! It'll be a great chance for fans to both reminisce and see some songs performed that they've never experienced in a live setting:
"In celebration of its 10 year anniversary, we're going on a U.S. tour playing our album GRAND in its entirety (as well as a bunch of other songs)," Matt said in a statement. "This album totally changed me and Kim's lives, but some of the songs off GRAND we've never even played live before. We're really excited we get to do this trip and we've never done anything like it. It's gonna be special."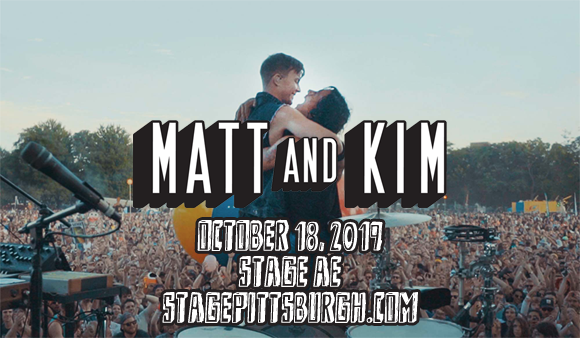 American indie electronic duo Matt and Kim consists of Matt Johnson (vocals/keyboards) and Kim Schifino (drums). The pair met in Brooklyn, New York in the early 2000s whilst studying at Brooklyn's Pratt Institute. They began performing together in 2004 and released their self-made, self-titled debut album in 2006. In 2008, they were signed to Fader Label, with whom they've released four of their five studio albums to date. The pair's most recent album, Almost Everyday, was released in 2018 and reached number 18 on the Billboard Independent Albums chart.