The Stage AE | Pittsburgh, Pennsylvania
If there is something in the handbook of music that says 'only DJs can play electronic dance music', then Lotus would have been notoriously violating it al these years. Well, no one's complaining. In fact, EDM fans turn out to be equally zealous Lotus fans who revel in the music of this legendary "jamtronica" band. Now Lotus' legions of fans are now in a celebratory mood as they dropped word of their tour that includes Lotus' seizing the stage of the Stage AE on Friday 27th December 2019. Jamming and electronica are operative words that imply of the scenario of this concert being a full house. Make sure you save your space soon enough while there's still room. That means buying tickets right now is the best option. Take it or you'll be sorry.. book tickets right here, right now!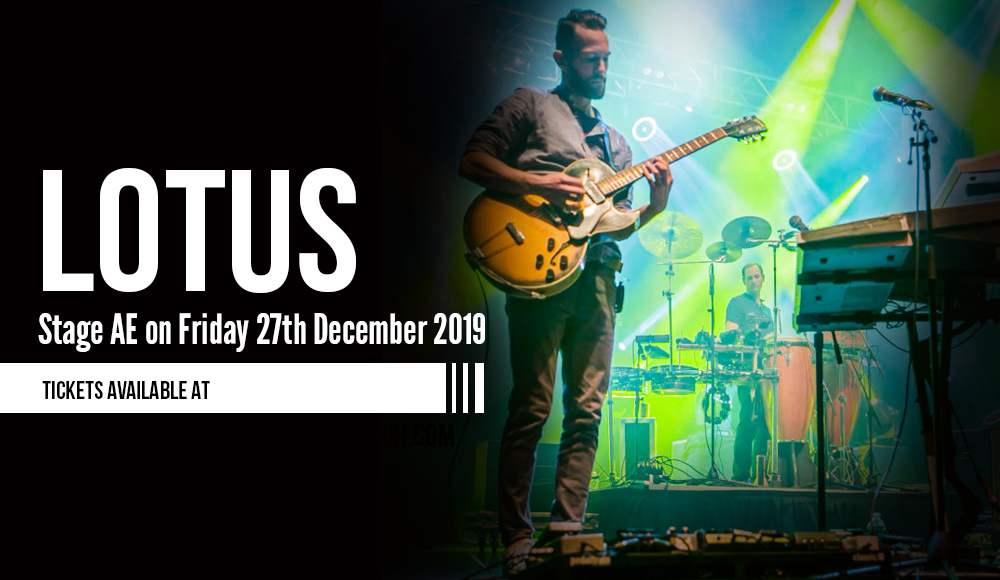 Whenever you hear EDM, perhaps you would picture a lone DJ at the center of a humongous stage spinning and dropping the beats. Sorry, but that picture would shatter once you see Lotus perform as a full-fledged band onstage. Lotus has been on the jamtronica business since 1999.
Lotus is considered a multi-genre band. The group incorporates elements of rock, electronica, jazz, jam, hip-hop, funk and other influences. Jesse Miller, the member who plays bass and samples said of the band's sound: "I truly believe Lotus' sound comes from the roots of rock 'n' roll mixed with electronic beats that are popular today. It took a long time for us to finally find a sound we all agreed on. But believe me, we experimented plenty before deciding what sound we were looking for".
That experimentation has gotten Lotus this far, innovating, touring, jamming and recording some of the most interesting sounds of the century. Lotus' impressive staying power is the fact that the band has stayed in the limelight despite the rise of EDM DJs. EDM DJs may have dominion over music festivals, but they could never kick them out of the room. Bonnaroo, All Good Music & Arts Festival, Jam on the River, Rothbury Music Festival …all these top-tier shows always have Lotus on the bill. Lotus also headlines the Summer Dance Music Festival in Garrettsville from way back 2008 since this festival started.
It's a given that you've been jumping up and down since you heard this great news. But now it's time to get your fingers running… take a few easy clicks starting with the 'buy tickets' button. Yes, that's how you secure your space and look forward to a fantastic evening at the Lotus concert.