The Stage AE | Pittsburgh, Pennsylvania
The guy who was once 'tired of love songs is back to giving it his all at the All 4 Nothing Tour led by the pop singer-songwriter, Lauv. The tour in support of his upcoming sophomore album "All 4 Nothing" is stopping by at Stage AE on Saturday, August 20th of 2022 with special guest Hayley Kiyoko. Known for popping aesthetics and jumpy beat drops to songs of heartaches and falling in love, Lauv is taking a new dreamscape in his latest single "All 4 Nothing (I'm So In Love)", giving fans a taste of the new record coming out this August 5th. Fall in love in this new era coming to life at The All 4 Nothing Tour. Book your tickets now!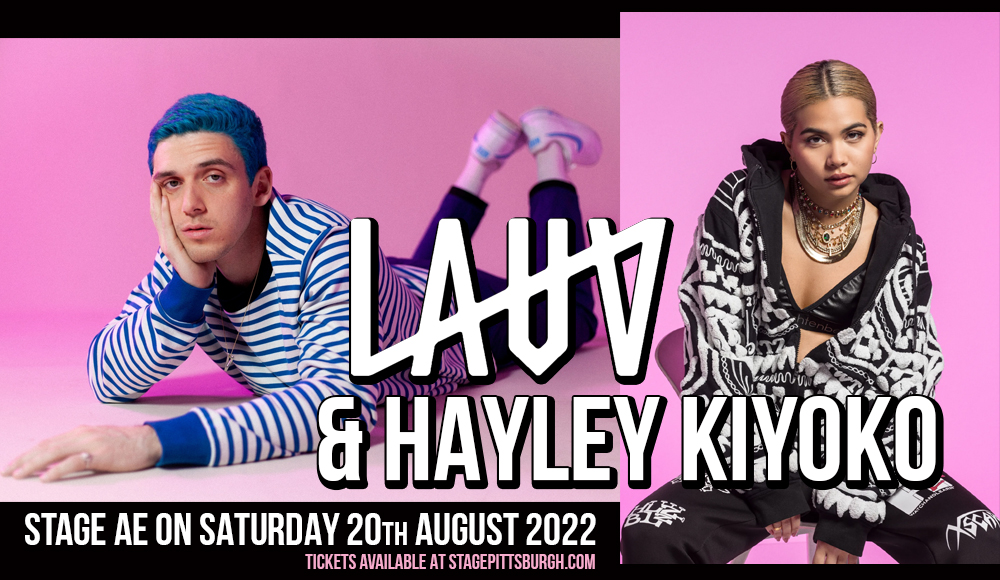 Born as Ari Staprans Leff, Lauv found a special place in his heart for music at an early age. Before learning how to play the guitar, he took piano and viola lessons. During high school, he played with various bands, studied jazz, then made the move to electronic. Writing songs at 14, most of his work talked about heartbreak and breakups despite not having had a girlfriend at the time. His first solo act took the stage name "Somersault Sunday".
Lauv recalls playing to an audience of "zero people" early into taking a shot in the music scene. From an audience of zero, his work has now amassed billions of streams on Spotify.
Having written songs about breakups when he started, Lauv went through an actual breakup in 2014, whilst co-writing "The Other" with Michael Matosic, which is the first song he released under his stage name "Lauv". He uploaded the track on SoundCloud in 2015, going viral and hit #3 on Hype Machine, and took a spot in the Global Top 100 on Spotify.
Lauv found his big break in 2017 with his hit single "I Like Me Better", taking inspiration from his relationship after he moved to NYC. With over a billion streams to date on Spotify, the song is also now awarded 4x Platinum by the RIAA.
From driving across cities for an audience of "zero people", Lauv took over the world, going on tours and even became Ed Sheeran's supporting act for his Divide Tour in Asia.
In May of 2018, he released "I Met You When I Was 18 (The Playlist)", a compilation of his new and past work, describing it as a "playlist" Lauv gradually updated until its release. By August of the same year, the album amassed over a billion streams on Spotify.
By 2020, Lauv finally released his debut full-length album "How I'm Feeling" which features a slew of hit singles he released the year before. This includes "Fuck, I'm Lonely" with Anne Marie, "I'm So Tired…" with Troye Sivan, "Feelings", and "Mean It" with LANY.
Lauv has also collaborated and featured with various artists including Ellie Goulding for "Slow Grenade", Ava Max for "Kings & Queens, Pt. 2", Blackbear for "If I Were U", and BTS for "Make It Right".
From songs about falling in love and breakups, Lauv is on a new dreamscape with his upcoming album "All 4 Nothing", where he finds love as the balance for everything. The man currently in a relationship, Lauv has found peace, more in love than ever. He gave fans a glimpse of the new record with singles "26" and "All 4 Nothing (I'm So in Love)".
Lauv describes "All 4 Nothing (I'm So in Love)" as "a song about loving someone so much at a time in your life when you're still in the process of learning how to love yourself… it's a song about surrendering to love and life."
"All 4 Nothing" is coming out on August 5. Save the date and save your spot at the All 4 Nothing Tour to witness Lauv's new era come to life live on stage by booking your tickets now!