The Stage AE | Pittsburgh, Pennsylvania
EVENT CANCELLED. Please contact your ticket point of purchase to claim a refund on your tickets.
You gotta have faith! Influential alternative – metal band Faith No More has confirmed dates for their headlining tour, which includes the 21st September 2021, Tuesday, at the Stage AE. The band is stoked to be back on the road and mount the stage to face their fans. "We're excited to be able to play live again. Looking forward to that moment, all of us together, the smells, the sweat, the noise. Thanks for being patient. Bring it on!" And we're bringing you as close as you can get to tickets. The 'Get Tickets' link is just right up there. Go and make a quick booking and save your seats. Right here, right now!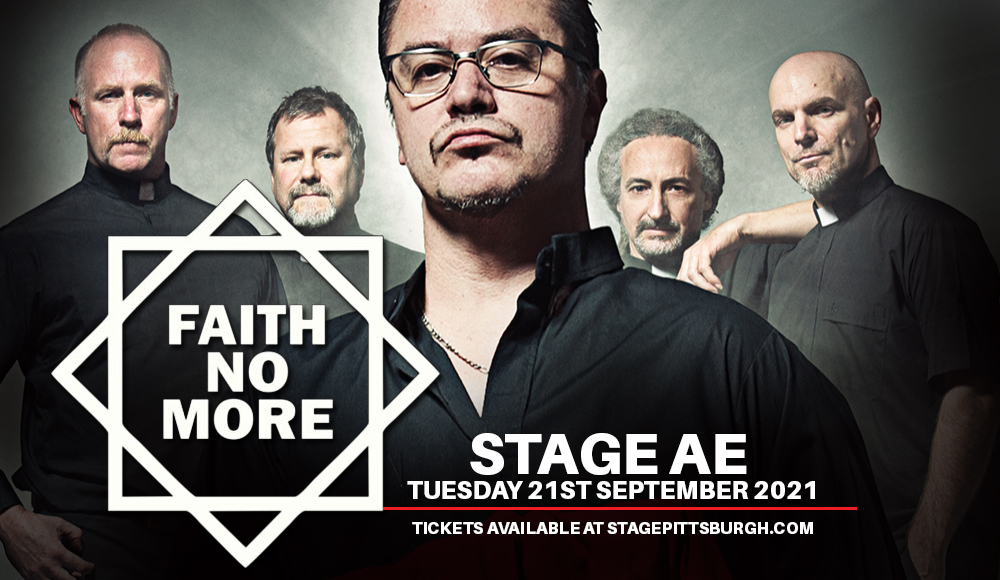 Not all bands are created 'influential'. Only a chosen few can be bestowed with this lofty 'title'. Faith No More is one of the select few artists that can claim connection, significance, and substantiate their influence, not only on their fans but with fellow 'influential artists' as well. Nirvana bassist, and co-founder, Krist Novoselic cited Faith No More as a band that "paved the way for Nirvana". Corey Taylor (frontman for both Slipknot and Stone Sour) said he "wouldn't be here today" if it wasn't for Faith No More, whom he saw performing "Epic" live, during the time when he was recovering from a suicide attempt, and "the performance inspired him to begin writing and performing music again." Faith No More has also been named as a prime influence of nu-metal bands, such as Limp Bizkit, Korn, and Sevendust.
Credited as the inventors of the alternative metal genre, Tim Grierson of About.com said the band "helped put alternative metal on the map." Then fans and music critics alike voted Faith No More, placing them at No. 52 on VH1's "100 Greatest Artists of Hard Rock".
Faith No More was formed in 1979, in San Francisco, California. They have seven studio albums to their name, including their biggest-sellers "The Real Thing" (1989) and "Angel Dust" (1992). The band's original line-up consisted of Billy Gould on bass, Mike Bordin on drums, Mike "The Man" Morris on vocals, and keyboardist Wade Worthington. Break-ups, member changes, hiatus, reunion… Faith No More has been through all these ups and downs but fans always have unwavering faith in their music.
"When we split up," Gould says, "we explored what we could do on our own. During that time, we each developed what was a natural part of ourselves. Now, coming back, we have a wider perspective so we can do things we didn't even think of back in the day. If we were to decide to do a country western music, it would still sound like a Faith No More album. Together we have a strong collective identity, and when we work together it makes its own animal."
Catch Faith No More at Stage AE on Tuesday 21st September 2021. Book your tickets now!