Stage AE | Pittsburgh, Pennsylvania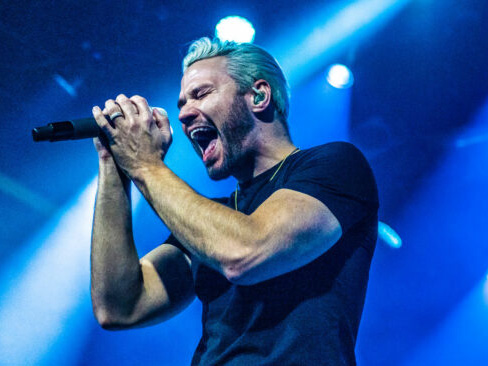 Prepare for a thrilling Tuesday night on 3rd October 2023 as Dance Gavin Dance transforms Stage AE into a playground for post-hardcore enthusiasts! Get ready to immerse yourself in a powerful sonic journey led by one of the most innovative bands in the contemporary music scene.
Dance Gavin Dance, known for their fearless experimentation with screamo, progressive rock, and experimental pop, has been enthralling audiences since their inception in the mid-2000s. Their electrifying live performances, matched with a unique sound that brims with passion and energy, continue to create waves in the music world.
As an added treat, up-and-coming special guests Sim and Rain City Drive will join Dance Gavin Dance, promising an evening bursting with intense rhythms, emotional release, and exceptional musical talent.
This is your chance to experience Dance Gavin Dance light up Stage AE with their musical magic on 3rd October 2023. Don't let this opportunity slip by; grab your tickets now, or risk missing out on a truly exhilarating musical experience!
Sacramento, California's own Dance Gavin Dance burst onto the post-hardcore scene in 2005, quickly making their mark with daring musical audacity. The dynamic group, consisting of vocal powerhouses Tilian Pearson and Jon Mess, skillful guitarist Will Swan, steady bassist Tim Feerick, and precision drummer Matthew Mingus, have intrigued both fans and critics with their innovative concoction of screamo, progressive rock, and experimental pop. Their debut album Downtown Battle Mountain (2007) set the stage ablaze, becoming a significant milestone in the genre's landscape.
The band boasts nine studio albums, with Jackpot Juicer marking their latest musical evolution. Climbing to number 8 on the Billboard 200, it echoes the band's enduring appeal and relevance in the music world. Dance Gavin Dance's undying spirit for reinvention and unyielding devotion to their artistic ethos have solidified their stature in the post-hardcore scene.
On Tuesday, 3rd October 2023, Dance Gavin Dance is slated to rock Stage AE with a performance that's sure to mesmerize. The band's concerts are renowned for their raw energy and the fluid blend of Pearson's melodic singing interwoven with Mess's aggressive screams, underpinned by their intricate musical arrangements.
With notable supporting acts like the hard rockers Sim and the smooth vocal laden Rain City Drive, they're certain to contribute to the night's exhilarating vibe.
As Dance Gavin Dance ascends to Stage AE platform for this standout show, brace yourself for an electrifying evening filled with potent performances and top-notch musicianship. Fans will be treated to the band's signature vibrancy and ground-breaking sonic exploration, offering a concert encounter unlike any other.
Don't let this unique night at Stage AE on Tuesday, 3rd October 2023 slip by unnoticed. Be a part of the electrifying fusion of post-hardcore and experimental rock as Dance Gavin Dance sets the stage aflame with beautiful clean vocals mixed with intense harsh vocals and sonically interesting musical melodies. Snap up your tickets now, they're going fast!