The Stage AE | Pittsburgh, Pennsylvania
The Scottish synth-pop trio Chvrches is back to take on the stage, stopping by Stage AE on Monday, 22nd November 2021, bringing along American singer-songwriter, Donna Missal. The band just released their latest single, "How Not To Drown", with The Cure's Robert Smith, as the second single from their upcoming album, "Screen Violence". The band takes you to 'chvrch; a night of indie pop, electro, and synths, jamming to crowd-favorites such as "Recover", "The Mother We Share", "Get Out", "Miracle", and much more. Make sure to save yourself a spot, book your tickets now!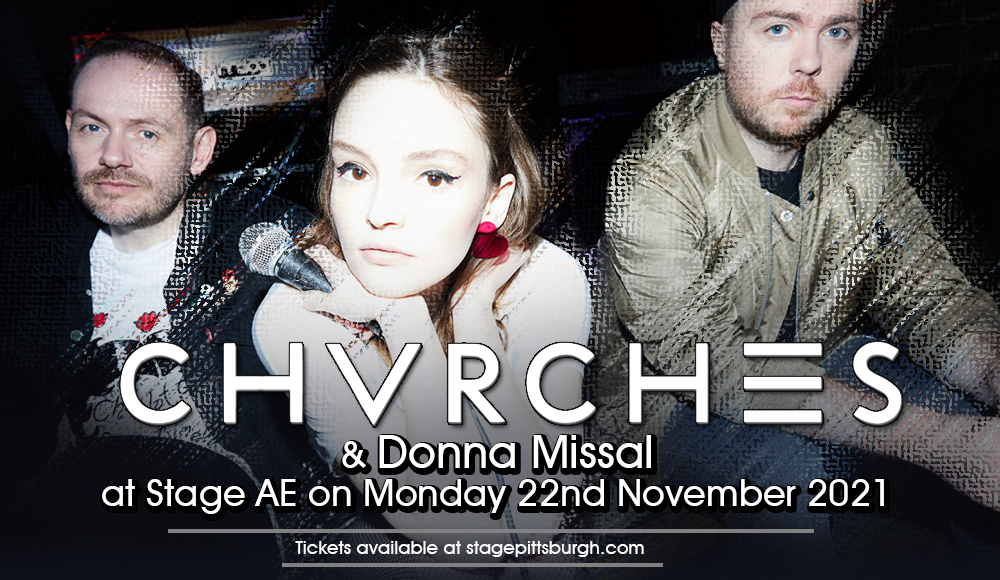 The trio Chvrches consists of Iain Cook, Martin Doherty, and Lauren Mayberry, who came together in 2011 with beginnings as a studio project, becoming propelled by their breakthrough success with the RIAA certified gold 2012 single "The Mother We Share". By 2013, the band released their first studio album "The Bones of What You Believe" which peaked at #9 in the UK and #12 in the US. The band ranked fifth on BBC's Sound of 2013 list that featured promising artists and was nominated for "Scottish Album of The Year" at the SAY Awards. They also received nominations for "Best New Band" and "Best British Band" at the NME Awards, and "British Breakthrough Act" at the Brit Awards.
By 2015, they brought out their second studio album, "Every Open Eye", and three years later, their third studio record, "Love Is Dead", both bringing along crowd-favorite tracks.
"A goddess hurricane of kinetic pop energy" says Neon Gold, something that fans can't get enough of at 'chvrch. They draw inspiration from their heroes, Depeche Mode, David Bowie, Iggy Pop, and draw influence from the likes of Madonna, Prince, Eurythmics, Cyndi Lauper, and much more.
Chvrches' fourth studio album is dropping soon this year, and once again, fans are ready to be taken to 'chvrch.
Take yourselves to 'chvrch, book your tickets now!