The Stage AE | Pittsburgh, Pennsylvania
Blue October fans are on a celebratory mood these days, as the band unleashed a new set of touring schedule that would take them far and wide this 2020. The band is all geared up once more for their "Get Back Up" 2020 tour, which includes a date at the Stage AE on Friday 10th April 2020. So drop everything and heed this call to get back up! Witness Blue October rise to the occasion and take their music to new heights. Buckle up and book your tickets now!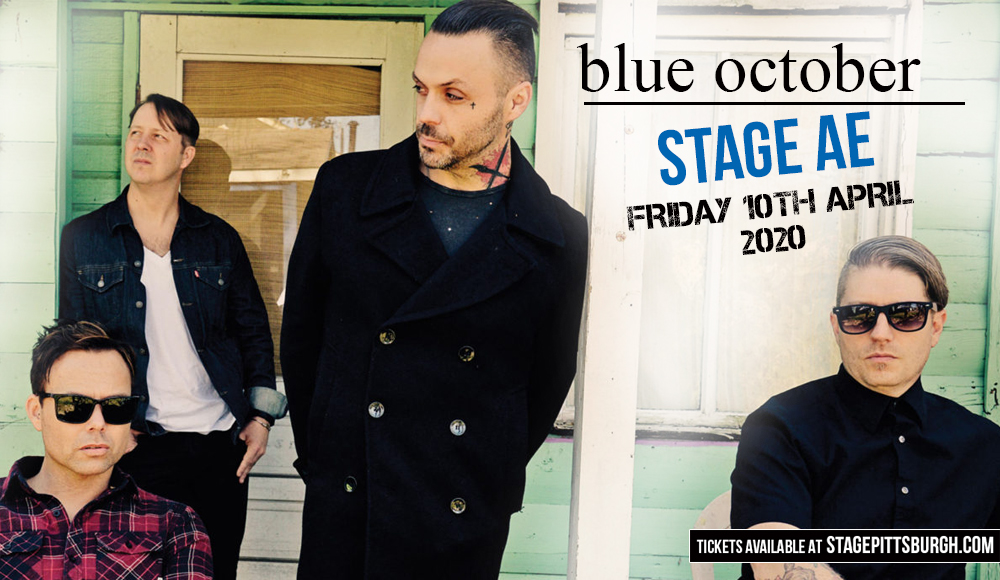 Blue October is an American rock- alternative band formed in 1995 and currently consists of Justin Furstenfeld (lead vocals, guitar), Jeremy Furstenfeld (drums, percussion), Ryan Delahoussaye (violin/viola, mandolin, piano, backing vocals), Matt Noveskey (bass guitar, backing vocals), and Will Knaak (lead guitar).
Blue October has built their rock-solid reputation through platinum-selling singles such "Hate Me" and "Into The Ocean." The group has had 11 top 40 singles to date, spawned from seven studio albums, to date.
Over the years, frontman Justin Furstenfield's has been struggling with mental illness and addiction. Furstenfield was able to hide his addiction though the band was falling apart. Yet clues about his mental illness could be found in many of his dark lyrics, something that has hounded him since he was a teenager.
This tour also comes in support of the documentary called "Get Back Up", detailing how Furstenfield and the band have endured painful experiences through illness and addiction, and the glimmer of a silver lining the band has seen, which enabled them to learn to love each other again and work actively to create a better future.
You are not alone in this battle. Blue October fans have raised their arms up in support. Get up and be counted. Book your tickets now!