Stage AE | Pittsburgh, Pennsylvania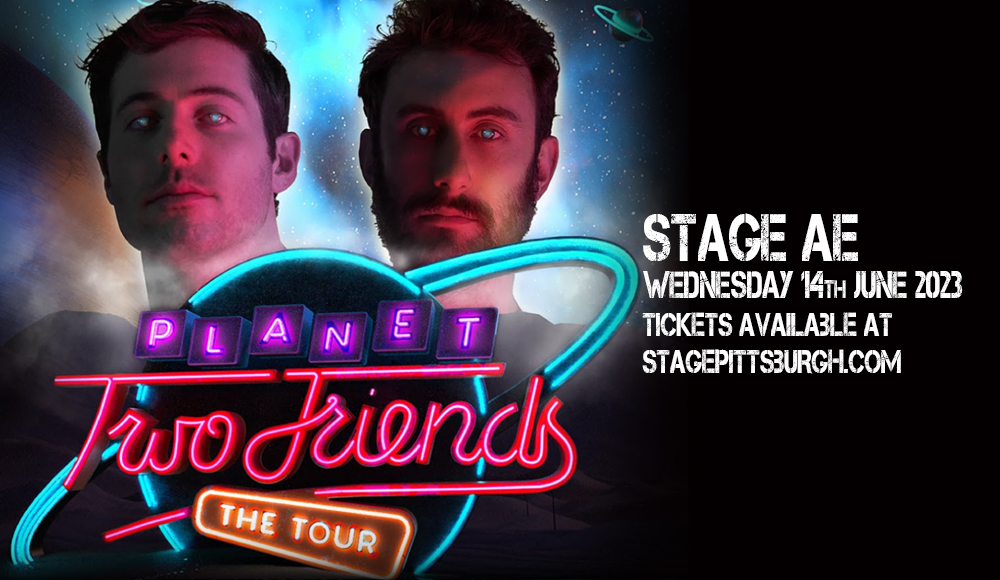 Celebrating a decade of Big Bootie Mixes that thousands of EDM fans across the world rave to, the DJ duo Eli Sones and Matthew Halper, otherwise known as 'Two Friends', are set to electrify Stage AE on Wednesday, 14th of June 2023, hoping to throw the year's biggest EDM party to remember. The duo also recently dropped their Helix Records debut "Wish You Were Here" featuring John K. Turning up the party over the last decade, Two Friends is set to keep EDM alive as the new year welcomes bigger opportunities and stronger beat drops. Book your tickets now!
Becoming a staple crowd-favorite in the EDM scene for their legendary hour-long Big Bootie Mixes of mainstream and EDM hits, Two Friends has amassed a following for their ultra-party mixes and distinctly-mixed originals. The duo just released their Helix Records debut single "Wish You Were Here" featuring John K. Infused with pop beats and powerful basslines, Two Friends' new material is home to the dancefloor. As an emotional banger of a track, Two Friends is set to take EDM to the next level.
"I remember locking myself in the basement of my in-laws house and cutting vocals by myself for hours until I got it right. "Wish You Were Here" is a sweet, sad banger." shared John K. "There's pain and longing in the vocal and tempo in the track. Loved working with Matt and Eli and can't wait for everyone to hear this. When I saw the music video… I cried."
Having met in LA in seventh grade, the duo formed Two Friends at the end of their high school lives, coming up with the moniker during a Senior Seminar class. They began experimenting with hip-hop beats, producing for various up-and-coming rappers. After stopping by the Sahara Tent at Coachella, they started becoming fascinated by the electronic genre.
The duo describes their music as "songs that are fun and get you dancing and moving, but also hopefully resonate with you on a more emotional level at the same time... [They are] kind of a melting pot of a lot of different elements and influences- whether from dance music, from pop, even from alternative rock or hip-hop."
The duo has produced various remixes for the likes of The Killers, Lana Del Ray, Vicetone, Echosmith, and Tove Lo.
As one of the industry's sought-after EDM artists, Two Friends is definitely one for the books. With a bigger and brighter future ahead of them, the duo is set to keep EDM alive, inviting the crowd to jump and rave like there's no tomorrow.
Book your tickets now!