The Stage AE | Pittsburgh, Pennsylvania
EVENT CANCELLED. Please contact your ticket point of purchase to claim a refund on your tickets.
One of the last decade's sensational indie bands, Two Door Cinema Club", is set to make a big comeback after sharing a new song "Wonderful Life", and a new album "Keep On Smiling". In support of their upcoming record, the band is set to smile their way through a brand new tour, with a stop at Stage AE on Sunday, October 30th, 2022. Having served indie hits "Something Good Can Work", "Undercover Martyn", "What You Know", and "Sleep Alone", Two Door Cinema Club is set to shine brighter, and 'keep on smiling as they challenge the indie landscape in this new decade aboard a big and bright new era. If you're up to lift your spirits up, save yourself a seat and book those tickets now!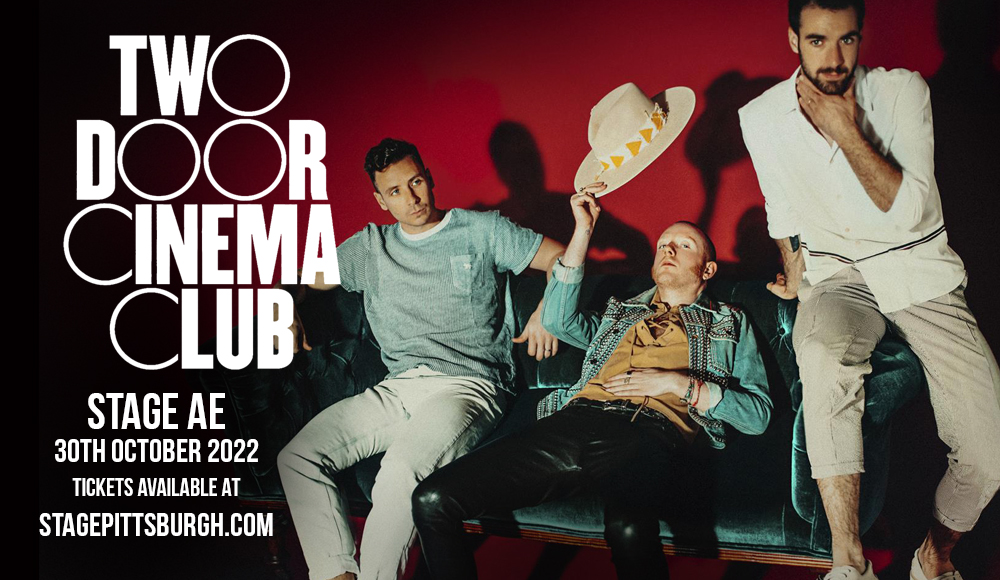 Two Door Cinema Club has been setting the stage as indie's next big thing across the pop-rock scene. The trio first came together under a different name when they performed at age 16 for ATL Rock School. They finished in last place, but that didn't stop them from smiling through a journey of making infectious tunes that the world would soon find coming right after.
They released their debut record "Tourist History" last 2010 featuring its singles "Something Good Can Work", "I Can Talk", "Undercover Martyn", "Come Back Home", and "What You Know", which all defined the band's part in shaping indie pop-rock for the rest of the decade.
'Something good can definitely work as the band has four studio records released to date, with their fifth album "Keep On Smiling" coming out on September 2nd. They recently released the first song off of their new record, the track named "Wonderful Life". Set for a brighter new era, Two Door Cinema Club's new record exudes positivity and hope for better days through keeping a smile.
"Yeah, we're obviously really excited to be back to releasing music, playing music together on a stage. I think it just feels crazy. It feels like the music industry was this big complex machine that had never been turned off before and now it's really stuttering back into life." bassist Kevin Baird shared with Consequence Sound.
As a follow-up to their 2019 record "False Alarm", the new record is said to be a "nod back to the pure rush of Two Door Cinema Club's early output."
As fans feel the rush of itching to hear new material from "Keep On Smiling", Two Door Cinema Club is set to bring the new era to life, hoping to spread bright smiles across the whole venue as they play their biggest hits and fresh new bops at the tour. Don't miss out on the band's exciting setlist at Stage AE on October 30th by booking your tickets now!