The Stage AE | Pittsburgh, Pennsylvania
Trixie Mattel comes to Stage AE on Friday 21st February 2020 on her Grown Up Tour! Mattel, whose career has been going from strenght to strength since her first appearance on season seven of RuPaul's Drag Race and from winning season three of Drag Race All-Stars, is pulling out all the stops for her new tour, combining her many talents into one fabulous show:
"It's a hat on a hat — in true drag queen fashion, I'm like, "How can we do more?" I really loved doing Moving Parts, that tour was probably, like, 75 percent standup, 20 percent music and maybe 5 percent video. But there was very little music — I love music, but standup is my bread and butter, making people laugh is my favorite thing. So for this tour, it was like, "How can I one-up that?" Well, I want to do more music, I want a much more developed presentation of my music. And I also found out how much people drink at my shows, so I was like, "Ok, let's give them something to drink to, music.""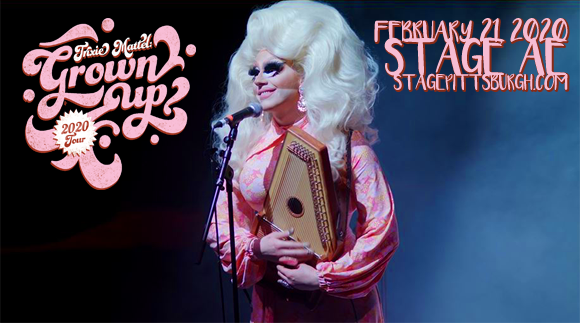 American drag queen, singer-songwriter, comedian and television personality Trixie Mattel is best-known as the winner of season three of RuPaul's Drag Race All Stars, having made her TV debut on the seventh season of RuPaul's Drag Race. With fellow Drag Race alumni Katya Zamolodchikova, she currently co-hosts the web series UNHhhh and its Viceland follow-up The Trixie & Katya Show. Mattel released her debut country-folk album, Two Birds, in 2017 and its follow-up, One Stone, in 2018. Since 2015, she has embarked on several stand-up comedy and music tours, including: Ages 3 and Up (2015–2017), Now with Moving Parts Tour (2018), Super Bowl Cut (2018) and Skinny Legend Tour (2019). A documentary film documenting Mattel's "rise to fame and subsequent country music career", called Trixie Mattel: Moving Parts, was released in 2019.