The Stage AE | Pittsburgh, Pennsylvania
Not one, but two of their breakout albums had just turned 10 and 11 years old is definitely worth celebrating. Join The Wonder Years' "The Upsides" & "Suburbia I've Given You All and Now I'm Nothing" Anniversary Tour. The modern pop-punk outfit that spawned massive hits like "Local Man Ruins Everything," "Washington Square Park," "Came Out Swinging," "Don't Let Me Cave In" and "Melrose Diner", is headed for Stage AE on Friday 11th March 2022, promising to play each classic album in full. With the band's uber devoted following, no wonder, tickets are now in high demand. You don't have to wander around and wonder where to get tickets as you can get them right here, right now! Click the 'Get Tickets' sign on this site to lock in the date and save your seats!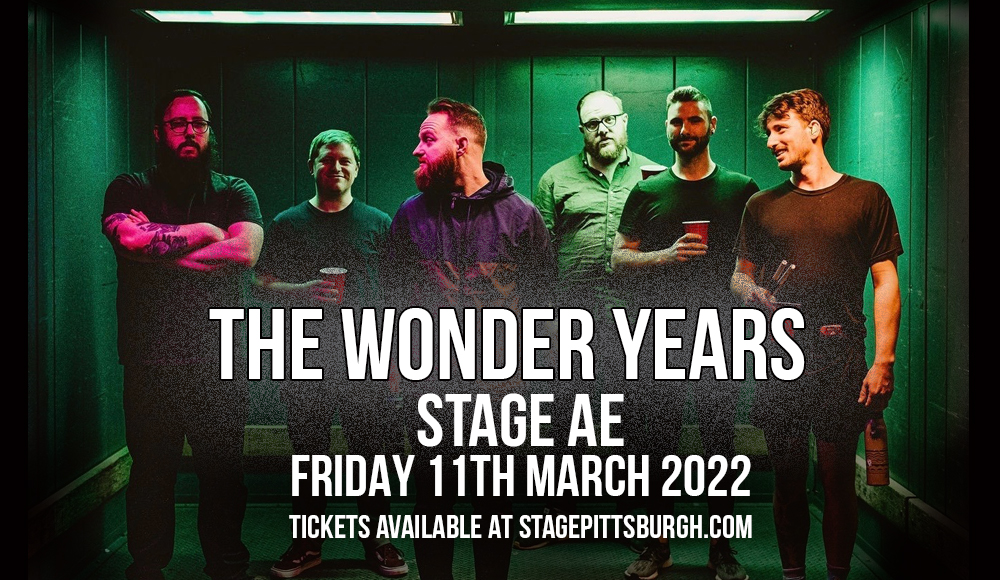 Whoever said 'punk is dead' is definitely spreading fake news. Modern pop-punk sextet The Wonder Years has certainly kept the punk scene alive and kicking. Formed in Lansdale, Pennsylvania, United States, in July 2005, The Wonder Years currently consists of Dan "Soupy" Campbell (lead vocals), Casey Cavaliere (lead guitar, backing vocals), Matt Brasch (guitar, vocals), Josh Martin (bass, vocals), Nick Steinborn (keyboards, guitar, backing vocals) and Mike Kennedy (drums, percussion). This 2022, the band will be touring and giving their loyal fans a real treat as they celebrate the 11th & 10th anniversaries of their albums "The Upsides" & "Suburbia I've Given You All and Now I'm Nothing". The Wonder Years are known for their romping energy and effervescent live showmanship on stage, as well as their recording craftsmanship in coming up with a timeless discography.
Rock Sound wrote that on "The Upsides", Campbell sung about "His early twenties soul-searching and tales of strife" which "resonated with a [new] generation, inspiring countless imitators in the process." This pushed Campbell to "the forefront of a new wave", and the album influencing a new wave of pop punk bands."
The above-mentioned albums may have broken new grounds for The Wonder Years, but fans and music critics alike have hailed their fourth album "The Greatest Generation" as the one that solidified their place on the music map. Propelled by smash hit singles like "Passing Through a Screen Door" and "Dismantling Summer", the album peaked at No. 20 on the Billboard 200. Lauded by music critics, it has also scored 97 on Metacritic, and is part of Rolling Stone's elite list of "The 50 Greatest Pop-Punk Albums."
Be part of The Wonder Years bash at the Stage AE on Friday 11th March 2022, don't miss it!