The Stage AE | Pittsburgh, Pennsylvania
The Struts are headed to Stage AE on Sunday 21st July 2019, bringing with them a wild and fun show that channels the true rock and roll spirit! The UK act, who have opened for such rock royalty as Foo Fighters, The Rolling Stones, The Who, Guns N' Roses and Mötley Crüe, are promoting their hot new album, Young and Dangerous, and will be performing fresh new material, including the single "Bulletproof Baby"!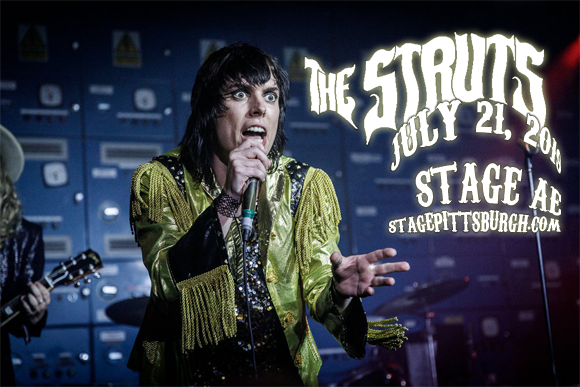 Formed in Derby, in Derbyshire, England in 2009, The Struts are an English rock band consisting of vocalist Luke Spiller, guitarist Adam Slack, bassist Jed Elliott, and drummer Gethin Davies. With a retro glam rock sound, the group has been compared to Queen, The Darkness, The Rolling Stones, Aerosmith, Def Leppard, The Killers, The Smiths, Oasis, The Libertines, The Strokes, and My Chemical Romance. The band came to public attention in 2014 when they opened for The Rolling Stones in front of an audience of 80,000 people in Paris, and their reputation grew when Spiller was featured as a singer on Mike Oldfield's album Man on the Rocks. The group released its debut album, Everybody Wants, in July 2014 in the UK to positive reviews, leading to a record deal with Interscope Records/Polydor. Their second and most recent album, Young and Dangerous, was released in 2018.