Legendary Hip-hop group, The Roots comes to Stage AE on Tuesday, August 31st 2021. "Hip-hop's first legitimate band," and the best live act in hip-hop, this is one show you do not want to miss! Buy your tickets now, for one hell of a jazzy and eclectic hip-hop extravaganza, this is your chance to get treated to a lesson in hip-hop that shows off the genre's history and scope, with elements of jazz, rap, funk and even metal. The Rots are Guaranteed to be even better on stage as they are on The Tonight Show Starring Jimmy Fallon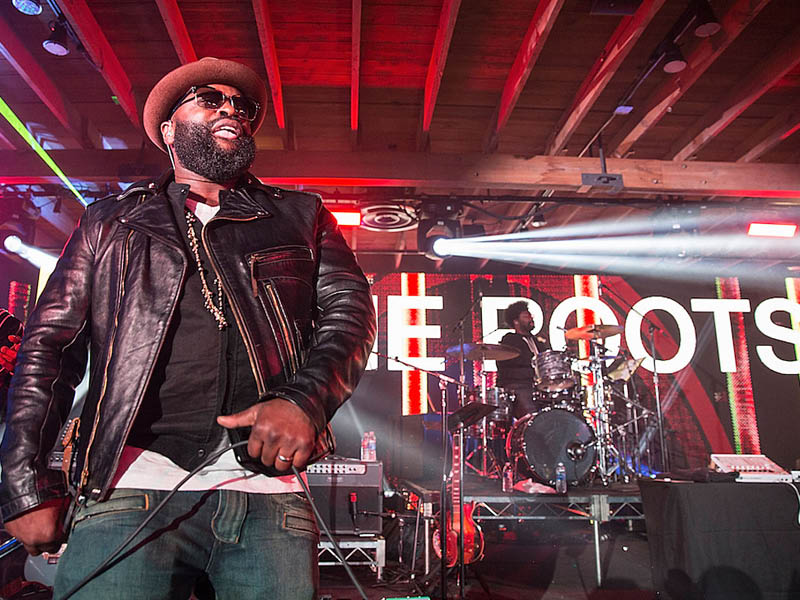 The best music act in the world tours less than they used to, but they make up for it with an incredible, multi-hour showcase. They are rapper and singer, Black Thought, drummer, beatboxer and rapper, Questlove, keyboardist and rapper, Kamal Gray, guitarist and singer, Captain Kirk Douglas, sousaphones and tuba player, Tuba Gooding, Jr. (Damon Bryson), keyboardists, James Poyser and Ray Angry, bassist, Mark Kelley, flute and saxophonist, Ian Hendrickson-Smith, trumpeter, Dave Guy, and multi-instrumentalists, beatboxers, percussionists, keyboard players and samplers, Stro Elliot and Jeremy Ellis.
The group were formed in 1987 by Tariq "Black Thought" Trotter and Ahmir "Questlove" Thompson. The Roots have released eleven albums and recorded with some of the biggest names in the music business, gaining three Grammy Awards, but it's in concert that The Roots really display their chops, having been named by Rolling Stone Magazine as one of the top Twenty Greatest Live Acts in the World in 2003. Their first album, "Organix," was recorded to sell at live shows. Though they were not very well-known when they joined the 1994 Lollapalooza tour, the crowd response was huge, and The Roots have been gaining momentum ever since. The group's third album, "Things Fall Apart," was their breakthrough album, reaching the Billboard Top 10 and ultimately going platinum.