The Stage AE | Pittsburgh, Pennsylvania
Should you follow your head or your heart? A puzzling choice that every person in the world probably went through. Well, fret no more as the indie folk/rock band of the decade, The Head and the Heart, is back to set to bring the beat back, and unite fans' heads and hearts through their heartwarming songs and fan-favorite anthems. Tagging along is the English singer-songwriter phenomenon, Jade Bird. Catch them live at Stage AE on Friday, 27th of May 2022 as The Head and The Heart kickstarts the Every Shade of Blue Tour, named after their latest single and much-awaited new album to be released real soon. Get ready to sing your heart out to fan-favorite tracks such as "Lost in My Mind", "Shake", "Honeybee", "All We Ever Knew", and fresh new music off their latest studio record. Pretty sure your heart's telling you to book your tickets now!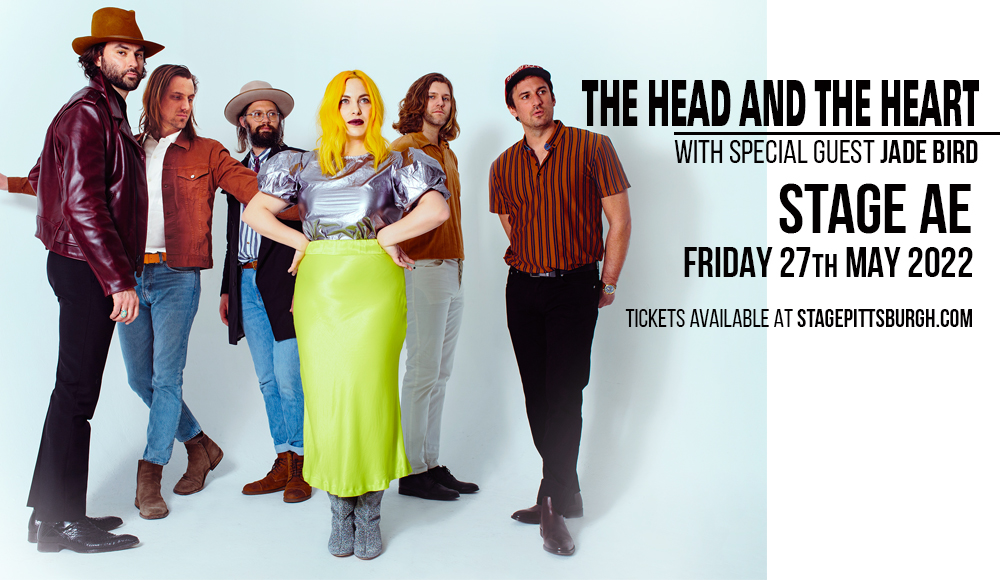 The Head and The Heart found their pulse as they humbly began in 2009 at Seattle, having met through nights of open mic sessions at a local pub. Current members include Jonathan Russell, Charity Rose Thielen, Matt Gervais, Chris Zasche, Kenny Hensley, and Tyler Williams.
The band's self-burned debut album "The Head and the Heart" wrapped in handmade denim sleeves sold out and drew great interest from various record labels. After having their debut record remastered, the album entered the Billboard 200 Album Charts, staying for 10 weeks. The Certified Gold record featured the singles "Lost in My Mind" and "Down in the Valley".
After a series of tours and guest appearances with notable bands such as Vampire Weekend and Death Cab For Cutie, THATH dropped their second record "Let's Be Still" by 2013, reaching #10 on the Billboard 200 Albums Chart. Afterward, they dropped their next albums "Signs of Light", "Living Mirage", featuring crowd-favorite singles such as "City of Angels", "Missed Connection", "Honeybee", and "All We Ever Knew".
As the new year 2022 soars high, The Head and The Heart is set to release their fifth studio record entitled "Every Shade of Blue" by April.
"We're so excited to bring new songs to life on stage every night, traveling alongside artists who inspire us. We can't wait to get out there, doing what we do with an even greater sense of gratitude." says the band.
The indie-folk and rock sensation back to bring intimate nights of live heartwarming music as fans vibe and sing along to The Head and The Heart's hits that never fail to resonate with the listener's mind and heart. It's time to check your pulse as your heart and mind tell you to book those tickets now!