The Stage AE | Pittsburgh, Pennsylvania
Get ready to fill up your senses and have your souls embark on a psychedelic journey headed by The Flaming Lips as they hit the road for their "American Head" tour. "American Head", their sixteenth record, the Lips reenkindles and reflects on their lived humanity, immersing listeners into a heightened spectrum of deep emotion. With almost four decades of daring and captivating alternative, rock, and punk music led by the band's front man, Wayne Coyne, the Lips calls fans to assemble at Stage AE on Thursday 11th November 2021, to take part in this psychedelic meditative experience of rock music. Make sure you save your spot by booking your tickets here, right now!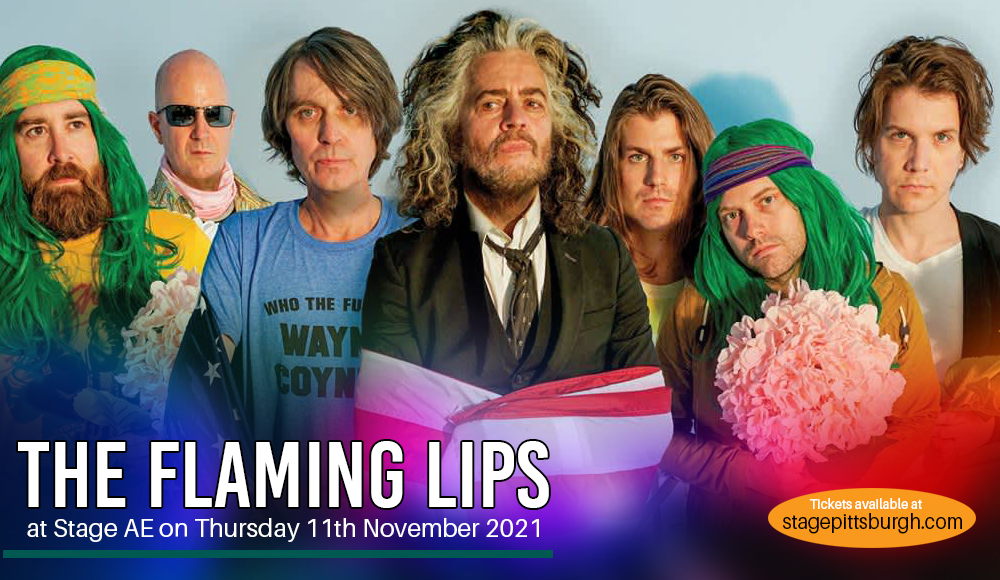 From their humble roots of experimental brave psychedelic rock in the 1980s at Oklahoma, breaking through the 90s as they signed with Warner Bros. when a label representative caught a show where they set the venue on fire with their pyrotechnics – The Lips has always been known for their breathtaking performances with lasers, a play on lights, projected screens, and effects that takes emotions on a heightened level.
The band consists of Wayne Coyne as lead vocals, guitar, and keyboards, Michael Ivins on bass, Steven Drozd, Derek Brown, and Jake Ingalls on guitars and keyboards, Matt Duckworth Kirksey on drums, and Nick Ley for percussions.
Their 1993 release "Transmissions from the Satellite Heart" brought the hit track "She Don't Use Jelly", leading them to embark on tours, and openning for bands such as the Red Hot Chili Peppers and Candlebox. Later on, releasing "The Soft Bulletin" in 1999, recognized as NME Magazine's Album of the Year, and the 2003 Grammy award-winning, "Yoshimi Battles the Pink Robots". Their 2006 album, "At War with the Mystics" with its heavier guitar influence also bagged Grammy Awards for Best Rock Instrumental Performance, and Best Engineered Album, and nominated for Best Alternative Album. They also embarked on experimental collaborations with other artists such as Kesha, Miley Cyrus, Bon Iver, and many more.
Decades of bravely engineered music, and ecstatic performances that take fans to another level, placed on Q magazine's "50 Bands to See Before You Die" in 2002, you can't miss out on this chance to catch them live on stage. Book your tickets now!