The Stage AE | Pittsburgh, Pennsylvania
The Commonheart will be performing at Stage AE on Saturday 9th November 2019. Doors will open at 7 PM. Grab your tickets NOW to watch one of the best bands in Pittsburgh perform live near you.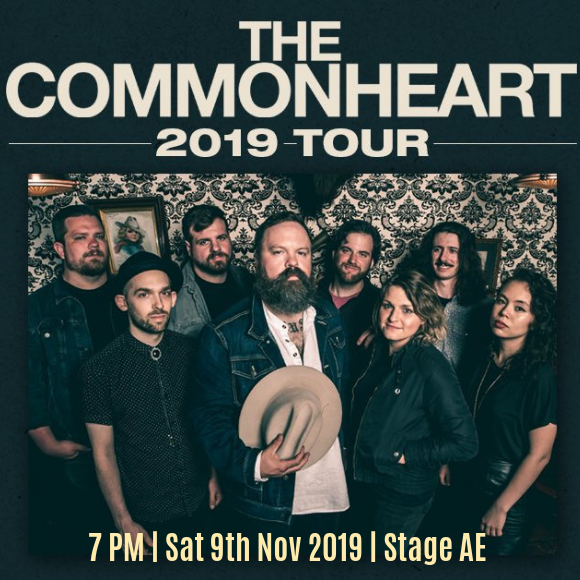 Formed to invoke emotion through tone and energy, The Commonheart is a band configured of up and coming artists from the Pittsburgh area. The band is made up of a total of nine individuals, who are:-
Lead singer: Clinton Clegg
Background vocalists: Mariko Reid & Anne Celedonia
Saxophonist: Abby Gross
Trumpeter: Nate Insko
Bass player: Anton Defade
Guitarist: Mike Minda
Keyboardist: Lucas Bowman
Drummer Shawn McGregor
The Commonheart delivers an emotion-packed with their gritty vocals over rock riffs and horns, soulful sound that lights up any stage. Lead singer Clinton Clegg is a powerhouse who commands full attention with his limitless onstage energy and vocal range.
Their new album "Grown" is a remarkable display of each member's talent interlacing heavy blues, soul, and gospel influence across trumpet, saxophone, keys, guitar, and singers. The Commonheart's sound is a true testament to the past while completely holding its own as one of today's most promising acts.
Attention:
In order to ensure the safety of our patrons and to increase the efficiency of our entry procedure, Stage AE will be implementing a new bag policy to mirror the bag policy of the NFL, effective September 15th, 2017. Only bags within 4.5 x 6.5 x 3 inches will be allowed into the venue for events. We will also allow one gallon or smaller clear plastic bags sized at or under 12 x12 x6 (inches). e.g., Ziploc, NFL branded entry bags. Large bags such as (but not limited to) backpacks, purses, drawstring bags, totes and carry alls will not be allowed into the venue. As before, the contents of any bag allowed onto the premises will be inspected for prohibited items. Any prohibited items or bags must be taken back to your vehicle or disposed of.
Stage AE or any affiliate will not be responsible for securing your personal items. Anything placed outside of our gates or fence will be discarded or removed by authorities.