Stage AE | Pittsburgh, Pennsylvania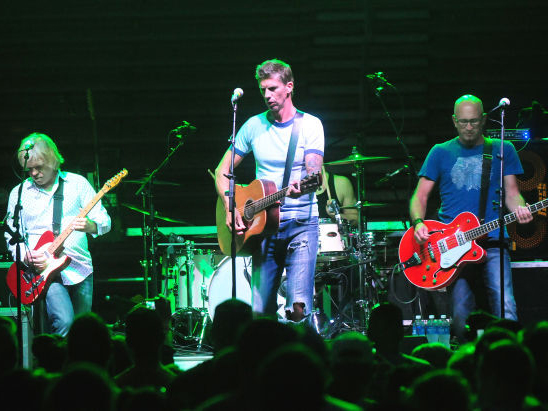 Stage AE is hosting the beloved American rock band The Clarks Saturday 10th June 2023. Make your way to Pittsburgh for good vibes with guitars and Southern rock as The Clarks sing some of their catchiest tunes. Often compared to artists like O.A.R. and Dave Matthews band, The Clarks are sure to put on a fun performance for all to enjoy. The Clarks are joined by their opening act Chet Vincent & The Music Industry for a double act that will make you feel warm inside. Chet Vincent has been a staple of the Pittsburgh music scene for the past 15 years, fronting bands like The Big Bend and Birdwatcher. If you're a fan already, this is a chance to see some new material from a favorite. If you're not, you're about to be! Grab your tickets now to make sure you don't miss an amazing live performance at this beautiful outside venue.
With 11 thrilling albums and years of relentless touring, The Clarks are music industry veterans. In their early months as a band, they started by covering songs from some of their favorite artists before ultimately deciding to release original material. The band has been going strong since the mid 80's when they burst onto the scene as many of that era did- after performing well in a tri-state area battle of the bands where they unveiled some of their new songs for the first time. In some of their recent albums, such as 2015's Rewind, the band included original recordings of some of their best covers, coming full circle in a strong way. The band has had a tumultuous journey in the music industry over the course of the past few decades, facing the kinds of difficulties that might lead some to give up, but they never did. The Clarks pressed on, touring relentlessly and releasing new music, even managing to make a few hit singles along the way. The band was never alone though, through the ups and downs they were always supported by admiring fans. After 11 studio albums, and most recently an EP, it's the band has absolutely made a lasting mark on the industry. Catch them on Stage AE for one of only 3 shows announced in the 2023 calendar year.
Joining the Clarks for an opening performance is Pittsburgh music scene staple Chet Vincent with his newest project Chet Vincent & The Music Industry. This is not Chet's first time around the block; with time as front man for local Pittsburgh bands like Bird Watcher and The Big Bend, this local favorite is well versed in how to get a crowd going with a microphone.
Fans of The Clarks will be pleasantly surprised to notice that this artist pairing is highly complimentary, with Chet Vincent & The Music Industry playing tunes that feel like the spiritual successor to The Clarks garage rock feel. When The Clarks and their opening act come to Stage AE on Saturday 10th June 2023, expect these artists to put on a show worthy of your precious weekend time. Get your tickets now to secure your spot before it's too late!