The Stage AE | Pittsburgh, Pennsylvania
EVENT RESCHEDULED TO MONDAY 9TH MAY 2022. Originally Monday 1st November 2021. All original tickets are still valid!
Brace yourselves for thunderbolts of lightning that would come crashing on the Stage AE on Monday 1st November 202. These sonic surges will come courtesy of thrash metal band Testament on their 'Bay Strikes Back Tour' featuring Bay Area thrash icons Testament, Exodus, and Death Angel. This tour comes as a moment of redemption for the band that has gone through hell and back as they were forced to return home as some members and crew contracted COVID-19. Now they're striking back, raring to unleash their rip-roaring and unstoppable energy on the live stage. A true testament that the music of metal gods and their metalheads are immortal. Save the date and book your tickets now!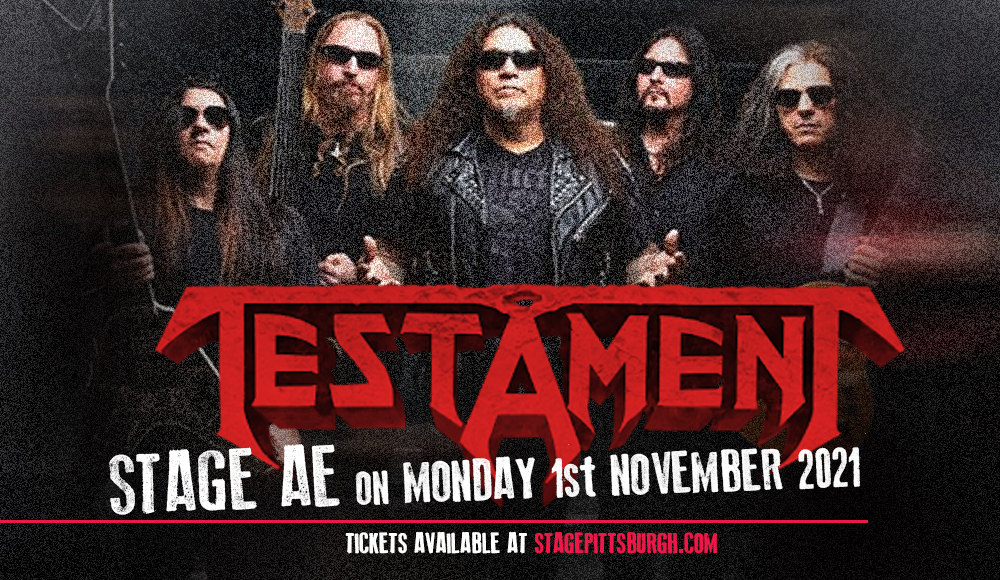 Bay Area thrash metal bands led by Testament, had to cut their world tour short last year as countries began shutting down in the wake of the pandemic. Now they're back with a vengeance as Testament, Exodus, and Death Angel officially announced dates of their U.S. leg of the 'Bay Strikes Back Tour'.
Testament's Eric Peterson says, "Finally we are able to announce this suspended tour due to the COVID-19 pandemic! We are totally excited to get out on the road again and continue where we left off supporting our newest release 'Titans of Creation!' Along with our brothers of thrash EXODUS and DEATH ANGEL! Get your tickets now! Horns up!!!!!"
Exodus' Gary Holt comments, "YES!! Finally back on the road! This time we are bringing the 'Bay Strikes Back' to our own shores with our good friend's TESTAMENT and DEATH ANGEL! To say this is awesome would be an understatement! Cannot wait!!"
Death Angel states, "At last the wait is over! We couldn't be more pleased to announce the continuation of 'The Bay Strikes Back Tour' with our brothers TESTAMENT and EXODUS! This leg takes us across the United States to bring our brand of Bay Area Thrash to live onstage, coming soon to a theater near you. Join us for a long-overdue release of some serious pent-up energy! We're gonna blow the roof off these joints! Come be a part of these explosive performances. See you soon!"
The Bay Area thrash metal movement has been around since the 80s, with Testament (formerly known as Legacy) leading the pack of the second wave of thrash metal in the late 1980s, and credited being the most influential Bay Area thrash metal acts. AllMusic described them as "one of the first thrash acts to emerge from the Bay Area in Metallica's wake during the '80s."
These bands have a very loyal and active fanbase so this may well be one of the most buzzed metal tours in the concert circuit. Word gets around quickly so make haste, click on that 'Get Tickets' link now!