The Stage AE | Pittsburgh, Pennsylvania
Suicideboys are finally back with their hotly anticipated second album, Long Term Effects of Suffering! Fans have been waiting three years since their debut and the New Orleans duo are bringing it to the masses, hitting the road this Fall on the Grey Day Tour! They're headed to Stage AE on Tuesday 12th October 2021 for an epic headline set, and they're also bringing Chief Keef, Turnstile, Night Lovell & Germ for the sickest support line-up of the year!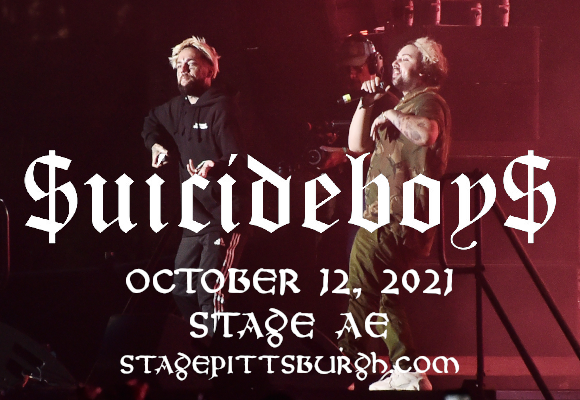 New Orleans hip-hop duo Suicideboys have made their mark on the scene with their dark and caustic beats and confessional lyrics, covering topics like depression and its symptoms, substance use disorder, and satanism – setting them apart from their peers in the rap scene. They first gained a following in 2014 and over the years became a cult hit due to their prolific release rate, having put out 43 EPs to date. Their 2016 EP Radical $uicide charted at number five on the Billboard Heatseekers chart, number 17 on the R&B and Hip Hop chart, and number 20 on the Independent Albums chart. They also had success with their 2019 six-track EP Live Fast, Die Whenever, which was a collaborative EP with drummer Travis Barker. They went from underground sensation to mainstream hit with their debut studio album, I Want to Die in New Orleans, which was released in 2018 and peaked at number 9 on the Billboard 200. Their second studio album, Long Term Effects of Suffering, is released in August 2021.