The Stage AE | Pittsburgh, Pennsylvania
Anarchy, laughter, dancing and a whole lot of drinking… Get ready for the co-headlining punk tour of the year as blue-collar outfit Social Distortion and Celtic rockers Flogging Molly head out on the road together! The raucous double-act heads to Stage AE on Tuesday 20th August 2019, with Social Distortion performing from their eagerly anticipated eighth studio album and Flogging Molly performing from their most recent album, Life is Good! Plus, The Devil Makes Three are their special guest support act!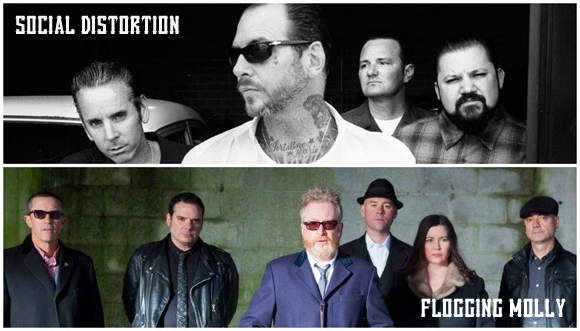 Irish-American seven-piece Celtic punk band Flogging Molly was formed in the late 1990s in Los Angeles, California where the original band members played a regular Monday night set at an Irish bar called Molly Malone's (from which they get their namesake). Their first release was a 1997 live album called Alive Behind the Green Door, and since then they have released six studio albums: Swagger (2000), Drunken Lullabies (2002), Within a Mile of Home (2004), Float (2008), Speed of Darkness (2011), and Life Is Good (2011); as well as Live at the Greek Theatre (2010) and the platinum-selling acoustic/live DVD/CD combo Whiskey on a Sunday (2006). Thei current line-up consists of: Dave King (lead vocals, acoustic guitar, bodhrán), Bridget Regan (violin, tin whistle, backing and lead vocals), Dennis Casey (guitar, vocals), Matt Hensley (accordion, concertina), Nathen Maxwell (bass guitar, vocals), Spencer Swain (mandolin, banjo, guitar, vocals) and Mike Alonso (drums, percussion).