The Stage AE | Pittsburgh, Pennsylvania
Celebrating a quarter of a decade since their formation, unstoppable indie rock renegades Sleater-Kinney are coming to Stage AE on Saturday 26th October 2019! The trio, who have been hailed by Rolling Stone as "the best American punk band ever", are celebrating the release of a brand new album, with Annie Clark (aka St Vincent) acting as producer, and they're ready to trock your world once more!
"Twenty-five years after Brownstein and Tucker first played together in a basement in Olympia, Washington, and four years on from their comeback album No Cities to Love, Sleater-Kinney are off the hamster wheel — and they've created one of the most furious, dynamic records of their career." – Thefader.com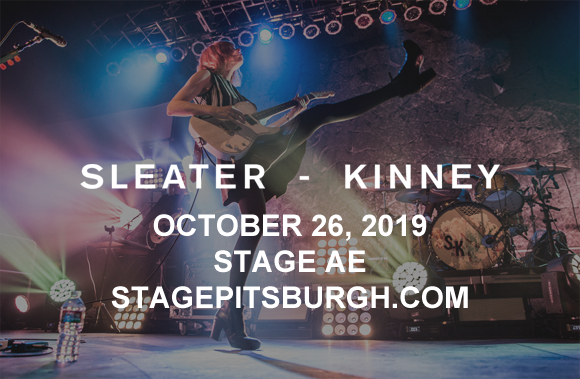 Taking up the mantle of the riot grrrl movement of the 1990s, American indie rock three-piece Sleater-Kinney proved themselves to be one of the most exciting bands of the early-2000s. The group was formed in 1994 by Corin Tucker and Carrie Brownstein and, after a few line-up changes, was joined by Janet Weiss of Quasi, who is the band's current and longest-lasting drummer. 1995 saw the release of the band's eponymous debut album – the first of seven albums released before the group disbanded in 2006. In 2014, Sleater-Kinney reunited, and they have since released two albums: No Cities to Love (2015) and Live in Paris (2017). This year sees the release of a new album for the trio, produced by St Vincent's Annie Clark.