The Stage AE | Pittsburgh, Pennsylvania
Put your hands on the air and groove to the rap tunes of one of the most influential rappers today. Pusha T is bringing his "It's Almost Dry Tour" to Pittsburgh's Stage AE this September 24 to offer his fans one of the best concert experiences this fall. The 45-year-old rapper will ignite the famous Pittsburgh venue with his distinctive and sample-heavy style songs from his newest album, "It's Almost Dry." Let the cool, collected, and bulletproof persona of the duo Clipse's half leave you in awe as he performs his newest songs, such as "Dreamin' of the Past," "Rock N' Roll," "Scrape It Off," and "Neck & Wrist," among many others. Secure your tickets for his show and prepare to have a great time with hundreds of other Pusha T fans. Get to see who the surprise guests are and be amazed by the rapper's showmanship full of swag, coolness, and pure talent. Grab your tickets now!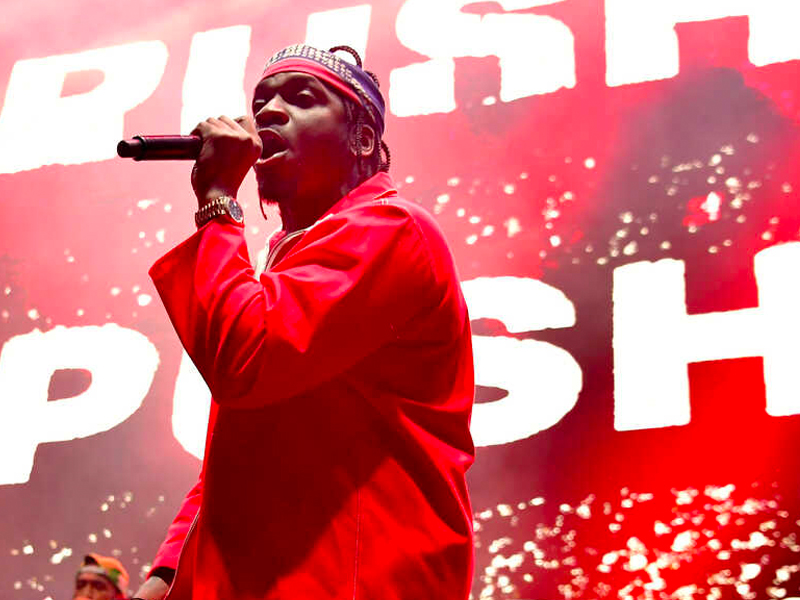 Terrence LeVarr Thornton, popularly known for his stage name Pusha T, rose to prominence with his brother Gene Elliott Thornton Jr. The brothers created Clipse, which became active from 1994 up to 2010. Improving his skills and working hard to rise up in the music industry, he decided to go solo in 2010. Before releasing his debut work, he collaborated with Kanye West, appearing on the legendary rapper's hit song "Runaway." His debut album in 2013, called "My Name Is My Name," was an expected success, which became one of the "Best Albums of 2013," according to many publications. In this first solo work, he went big by collaborating with many prominent artists, such as Chris Brown, Kendrick Lamar, and Pharrell Williams. His momentum continued in his subsequent albums. "King Push – Darkest Before Dawn: The Prelude," released in 2015, gained wide acclaim for its ice-cold feel reminiscent of 90s rap music. "Daytona," his third album, was the top spot on Billboard's 20 Best Hip-Hop Albums of 2018. The recently released "It's Almost Dry" immediately peaked at the top in the US Billboard 200 charts.
In support of the "It's Almost Dry" album, Pusha T extends his tour. In its phase 2, he will perform in 19 more cities, including Pittsburgh, Pennsylvania, at Stage AE on Saturday, September 24. You can get tickets already! Just click the "Get Tickets" button.