The Stage AE | Pittsburgh, Pennsylvania
EVENT RESCHEDULED TO TUESDAY 5TH OCTOBER 2021. Originally Sunday 27th June 2021. All original tickets are still valid!
See Primus as you've never seen them before as they come to Stage AE on Tuesday 5th October 2021 (Rescheduled from Sunday 27th June 2021) to pay tribute to iconic candid rock band Rush by performing their 1997 album A Farewell to Kings in its entirety! The A Tribute To Kings Tour gives the opportunity for the alt-metal band and Rush fans to pay homage to one of their greatest influences as a group, and the first band that Claypool ever saw live!
"A little over one year ago, Ler LaLonde and I started kicking the idea around of Primus performing a series of shows featuring an iconic Rush album from our youth," Primus frontman Les Claypool said in a Facebook post. "Being that A Farewell to Kings was the first Rush record I ever heard, and that it contains my all-time favorite Rush tune, Cygnus X1, the choice narrowed quickly."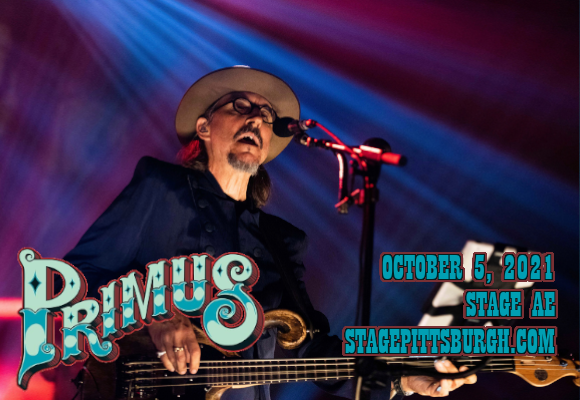 Funk-metal band Primus was formed in 1984 in El Sobrante, California and currently consists of bassist/vocalist Les Claypool, guitarist Larry "Ler" LaLonde and drummer Tim "Herb" Alexander. The group is known for its humorous, idiosyncratic style that leans heavily on Claypool's unusual style of bass-playing, and an unlikely fusion of musical genres. Throughout the years, the band has released nine studio albums; its most recent being 2017's The Desaturating Seven. The band has also been responsible for influencing several subsequent groups, particularly in the nu-metal scene, including Deftones, Korn, Limp Bizkit, and Incubus. Primus has been nominated for two Grammy Awards to date and is known for having created the original theme for the TV series South Park.