The Stage AE | Pittsburgh, Pennsylvania
American funk-jam sensation, Pigeons Playing Ping Pong, is set to throw the ultimate year-ender with a New Year's celebration in Pittsburgh, PA at Stage AE on Friday, 30th of December 2022. Gaining prominence for their unique sound and constant touring, the band amassed a loyal fanbase called "The Flock" which lights up every single show. With a new album "Perspective" out on the airwaves, highlighting themes of growth throughout the years, Pigeons Playing Ping Pong is set on a mission of living life to the fullest through their music. With 2022 wrapping up, get ready to soar new heights in a celebration with Pigeons Playing Ping Pong live on stage by booking your tickets now!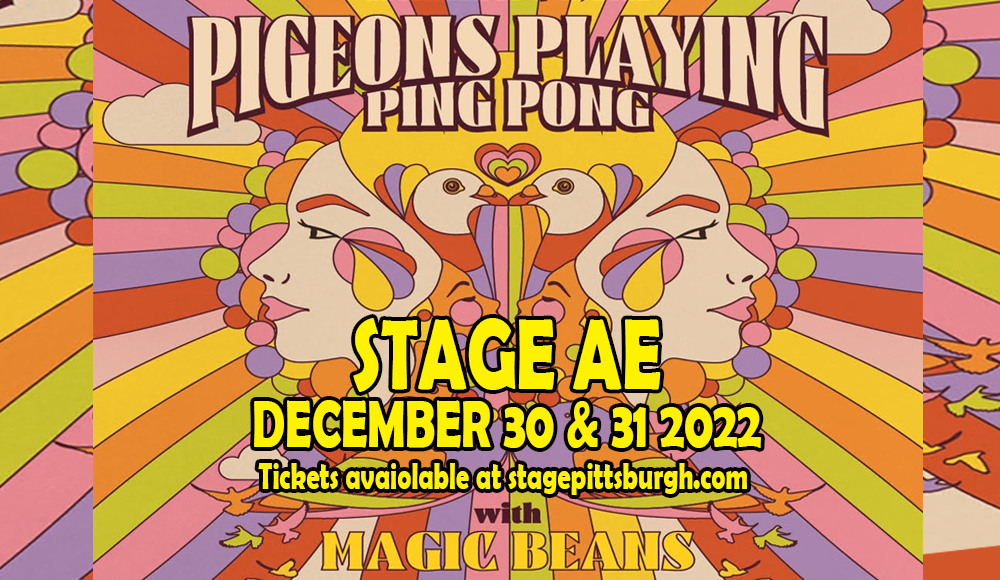 The psychedelic funk ensemble of four hailing from Baltimore grew a loyal flock by constantly performing their craft on the live stage. Releasing their sixth studio record "Perspective" in April of 2022, the band expressed how they gained a new perspective, unable to tour at the onset of the pandemic.
"When touring shut down in 2020, we gained immense perspective," frontman Greg Ormont shared in a press release. "The album title speaks to the perspective of the pandemic as well as our growth over the years,"
Unable to tour as the world faced a brief pause, "instead of watching the world go by, we quickly decided to pour all of our creative energy into the studio and rejoice in the healing power of music." Ormont expressed. With a new perspective at their creative forefront, the psychedelic funk sensation made a big return with a new single "Elephante" in February. To fans' surprise, the band released more infectious funk anthems "Move Like That" and "Sir Real".
"We hope you listen to 'Perspective' and are reminded that life is fleeting yet amazing," Ormont said while reminding their flock to "dance your heart out every step of the way".
The psychedelic funk foursome is brought to life by guitarist and vocalist "Scrambled" Greg Ormont, guitarist Jeremy Schon, Bassist Ben Carrey, and drummer Alex "Gator" Petropulos. Together, they serve a unique flavor of Funk in the live scene, hailed as "musical explorers" by Rolling Stone. To date, they have six self-released studio albums which exhibit their passion in the genre, with new perspectives for every record.
"During this turbulent time, everyone in the world has been forced to look in the mirror and ask what's truly important," Ormont says. "If there's anything we've all gained from this, it's perspective, and a recurring theme from our band is to not waste time. Now more than ever, we recognize that you only get one life, so you might as well live it to the fullest and lift people up in the process."
As the year comes to an end, get ready for an infectious dance-driven night of funk led by the one and only Pigeons Playing Ping Pong for a perfect year-ender at Stage AE. Book your tickets now!