The Stage AE | Pittsburgh, Pennsylvania
Indie rocker Phoebe Bridgers comes to Stage AE on Friday 17th September 2021 with special guest MUNA. Grammy Award nominated for her latest album, Punisher, Phoebe is coming at you with her indie-rock, emo-funk darkness. With Rolling Stone calling it, "eleven expertly rendered, largely downcast songs about broken faith, desperate, occasionally self-destructive love, and tenuous recovery." Ooh, definitely some dark emo s***, grab your tickets now to this Top ten rated album played live, it's going to be anxious, melancholy and a whole lot of haunting, think Avril Lavigne meets Trent Reznor.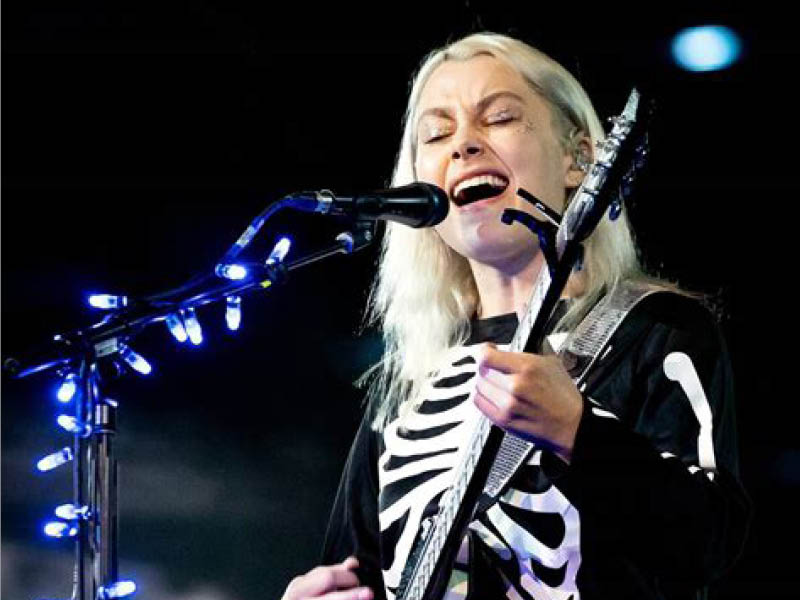 Indie-rock singer-songwriter, guitarist and producer, Phoebe Lucille Bridgers, from Los Angeles, California, made her solo debut with the studio album, Stranger in the Alps, in 2017, which peaked at number 13 on the Heatseekers Albums, 38 on the Independent Albums and 17 on the Folk Albums charts. The A.V. Club gave it a perfect score, saying "Stranger In The Alps, alchemizes sorrow into redemptive beauty. It's never about wallowing, but about slowly moving through it. That difference, played out over some incredible, wise-beyond-her-years songwriting, makes it one of the best albums of the year." And all I have to say is, "Do you see what happens when you **** a stranger in the ass?" She followed it with the album, Punisher, in 2020, a collaborative album of sorts, with writing coming from two dozen prominent musicians, including Julien Baker, Lucy Dacus, Christian Lee Hutson, Jim Keltner, Blake Mills, and Conor Oberst. The album was nominated for 4 Grammy Awards, and charted at number 43 on the Billboard 200 and number 2 on the Top Alternative Albums charts. Phoebe is also a member of the supergroup, boygenius, with Julien Baker and Lucy Dacus, and she is one half of the duo, Better Oblivion Community Center, with Conor Oberst.