The Stage AE | Pittsburgh, Pennsylvania
Folk-infused pop singer-songwriter Noah Kahan just announced a trek of shows across the country for his 'Stick Season Tour' this summer 2023. The "Hurt Somebody" singer is coming to you live at Stage AE on Tuesday, 6th of June 2023. As a rising artist in the mainstream scene, the man proves he's got what it takes to make it big through a new record that explores senses of nostalgia and growing beyond people and where one comes from. His new album features his singles "Stick Season" and "Northern Attitude". Gearing up for the "Stick Season Tour", Noah Kahan invites you on a night of his hits, fan favorites, and new music live on stage. Book your tickets now!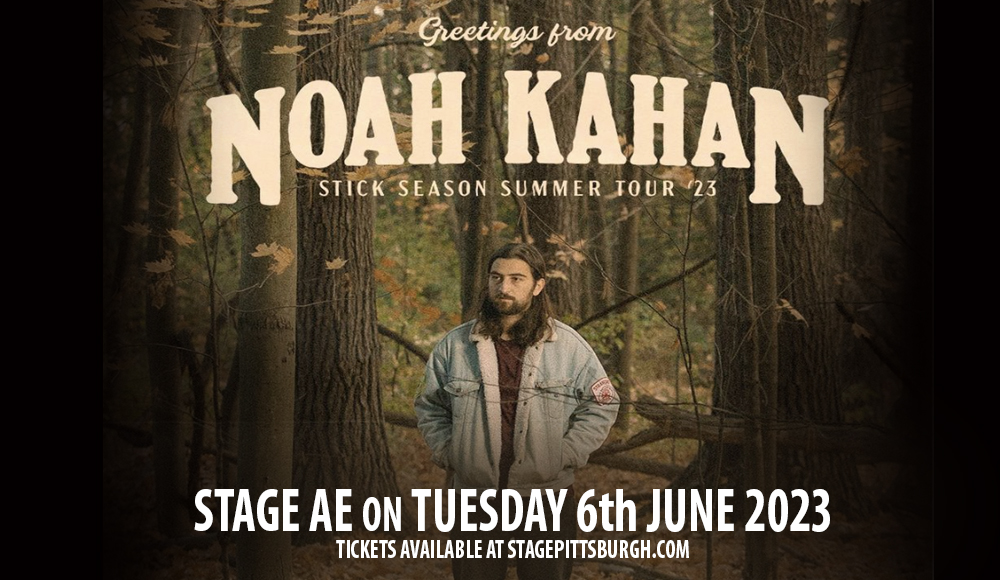 Rising into the scene in 2017, folk-infused pop singer Noah Kahan has become well-known for his music that exudes authenticity and passion for his craft, exploring various themes through lyrical tales that speak volumes of emotion. Kahan found his breakthrough in 2017 when his debut lead single "Hurt Somebody" was later re-recorded with Grammy-nominated singer Julia Michaels. The track was awarded Gold by the RIAA and 4x Platinum by ARIA.
Amassing waves of new listeners and dropping his sophomore album in the midst of the pandemic, Noah Kahan continues to be fueled by passion, creating lyrical tales that anyone could love. In October of 2022, the man released his third album "Stick Season". Kahan shared that the record is "full of nostalgic melodies that will resonate far beyond New England", paying homage to his folk inspirations that fueled him to reach for his goals.
The album features his new singles "Stick Season" and "Northern Attitude".
The album's name is inspired by a time of the year in New England that isn't really something to celebrate. "It's the time between peak foliage and Halloween and the first snow — when all the leaves are off the trees," Kahan explained to Insider in an interview. "It's a time of transition. And it's super depressing,"
"Stick Season" is a record that exudes themes of nostalgia and coming back to his roots, where it all began. It explores emotions of what he truly felt growing up, how he felt alone at times, and what fueled where he is today. The record is more focused on his folk genre compared to his previous releases. He shares that he hoped to pay homage to folk artists that inspired him to make music himself growing up.
"I wanted to write songs about the feeling of being left behind," he shared. "I've always felt an intense nostalgia for that time, like there's been something missing from my life. I didn't go to college and have those four years and my childhood ended in Vermont,"
"Stick Season" explores different phases of youth, such as "Strawberry Wine" talks about first loves, and "Come Over" talks about powerful new friendships. The album is also largely co-produced by Kahan himself. He shares with Insider, "I had such a vision for it, such a specific story I wanted to tell, that when I got in the studio I found myself not being able to just let the process pass me by at all,"
With new stories and emotions explored in his folk-driven new album "Stick Season", Noah Kahan hopes to share these lyrical tales live on stage, hoping that everyone can connect and relate to his music. Don't miss out on the Stick Seasons Tour by booking your tickets now!