The Stage AE | Pittsburgh, Pennsylvania
Mayday! Mayday! Brace yourself as the emo, pop-punk, and rock band, Mayday Parade, kicks off 2022 with a bang as they crash onto the stage at Stage AE on Saturday, 19th March 2022 together with pop-punk acts Real Friends and Magnolia Park. The band acclaimed for their emo pop-punk hits and fan-favorites such as "Miserable At Best", "Jamie All Over", "Comedown", and their take on Gotye's "Somebody That I Used to Know", just dropped their seventh studio record "What It Means to Fall Apart" that exudes their emo roots. Their latest single "Think Of You" is "about not wanting to miss a single moment with someone in your life and cherishing every moment you do have…" as their drummer, Jake Bundrick, expressed. A night of favorite bops and fresh new music off of their new album is all you could think about as the new year approaches. Don't miss out on a night of emo, pop-punk, and rock anthems. Book your tickets now!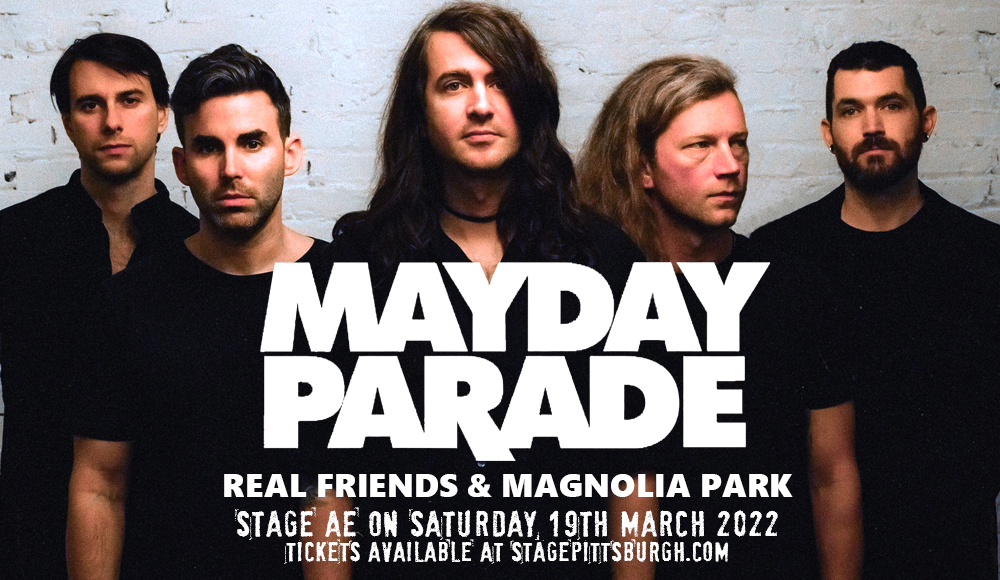 Winter of 2005, two bands who practiced together in the same building in Tallahassee decided to play together and formed what would become one of the best emo pop-punk and rock acts Mayday Parade. By 2006, they released their debut EP "Tales Told by Dead Friends" selling over 50,000 copies independently.
By 2007, Mayday Parade released their certified-gold debut album "A Lesson in Romantics", selling over 200,000 copies, which included singles "Jamie All Over" and "When I Get Home, You're So Dead". Then following the departure of their former lead singer, Jason Lancaster.
Current members include Derek Sanders as lead vocals, piano, and guitar, Alex Garcia as lead guitar, Brooks Betts on rhythm guitar, Jeremy Lenzo on bass guitar and backing vocals, and Jake Bundrick on drums.
Mayday Parade signed with Atlantic in 2009 and released their 2nd record "Anywhere but Here" with "The Silence" as its lead single. As years went by, the band released their albums "Mayday Parade", "Monsters in the Closet", and "Black Lines" under the label Fearless through 2015.
By 2018, the band made a comeback with their new label Rise, releasing their sixth record "Sunnyland" with "Piece of Your Heart" as its lead single. In the midst of the global pandemic in 2020, Mayday Parade released an EP named "Out of Here" with the lead single "Lighten Up Kid" where Bundrick expressed "is about trying to find yourself and the strength to keep fighting for what you believe in". The following year after treating fans more singles, the band announced their 7th studio record "What It Means To Fall Apart" released last November of 2021.
Mayday Parade has become a staple name in the emo pop-punk and rock scene. Fans just can't get enough of the band's emo-pop and rock hooks with crowd-favorites like "Jamie All Over", "Stay", "Kids In Love", "Save Your Heart", and many more. It's time to brace yourself and book those tickets now as the Mayday Parade comes crashing onto the stage real soon!