The Stage AE | Pittsburgh, Pennsylvania
Rising R&B star Mac Ayres is taking his blend of R&B, soul, funk, and jazz to the live stage as he goes on tour, stopping by Stage AE on Tuesday, 2nd of May 2023. The multi-talented singer is set to grow bigger in a new year of music as he gives his acclaimed craft a live stage treatment. With a growing fanbase for his 2019 album "Juicebox" and 2021's "Magic 8ball", Ayres is giving it all to let his music do its magic. With a unique groove and blend of R&B influences, the 'Magic 8 Ball definitely says 'yes, definitely' to a night of Mac Ayres' live music. Book your tickets now!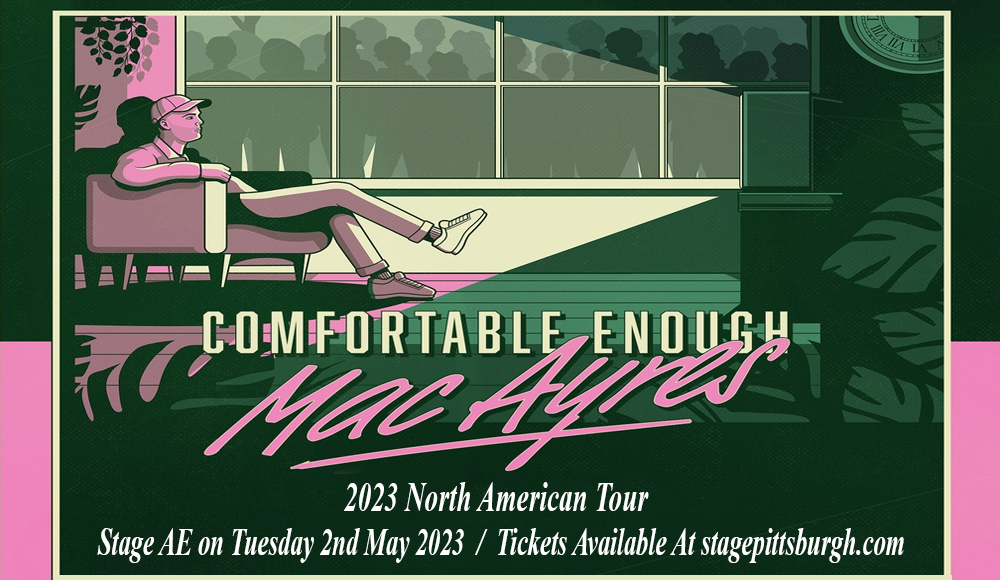 As a rising star in the R&B scene, 23-year-old Mac Ayres takes his vocal, songwriting, and multi-instrumentalist talent to a unique groove that exudes the '70s, '90s, and pre-'00s vibes. Dropping out from Berklee College of Music to pursue his debut EP "Drive Slow", the man proves that he's got what it takes to make it big in the scene. His fourth album "Magic 8ball" rose to critical acclaim, with various critics sharing how exceptional his material is.
Every track takes listeners to a vibe that Ayres vocally transports them into. "Sunny & 62" takes you to feel the LA breeze, "Sometimes" oozes Stevie Wonder soul vibes, and "Where U Goin' Tonight" takes you dancing on the dancefloor with its funky jam. Critics cite exceptional instrumentals, relatable lyrics, and an undeniably great groove.
Mac Ayres shares that Magic 8ball is "a love letter to loneliness," Citing growth and experiences amidst unpredictable times, it's as honest and vulnerable as i could be." As the world faced radical change and unpredictability over the last 2 years, Ayres recalls change and growth for better days. "As artists and people we are always changing, growing, and transforming. But at the end of the day, I am just a guy who loves writing songs."
As a gem that is yet to dominate ultra-mainstream airwaves, Mac Ayres is continuously growing. Evident in his new critically-acclaimed releases and growing fanbase as streams continue to rise, the man proves that he's got what it takes to make music as it should be – honest, intentional, and inspired. "Drive Slow", "Something To Feel", "Juicebox", and "Magic 8ball", four albums in and Mac Ayres ain't stopping anytime soon. It's time that his music speaks for itself – especially on the live stage.
Book your tickets now!