The Stage AE | Pittsburgh, Pennsylvania
The electronic jam sensation, Lotus, is coming back to bloom like never before, announcing an extensive U.S. tour in support of their new album, "Bloom & Recede". Known for their funky twists and turns in their electronic-fusion instrumentals, Lotus has won the hearts of listeners and critics alike for their unique electronic artistry which they described as "jamtronica". As 2022 recedes, the jam band is gearing up to bloom at their 2023 tour, with a special stop at Stage AE on Saturday, 25th of February 2023. This is your chance to support one of the world's most unique electronic acts with their new album Bloom & Recede taking the live stage. Book your tickets now!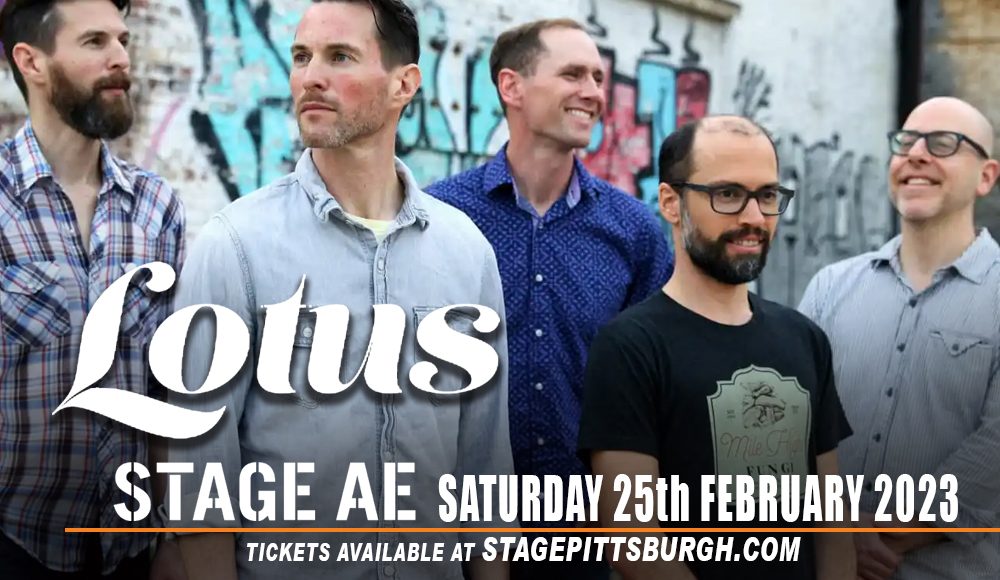 Formed in August of 1998, the band started to gain traction in 1999, and marked their edge in music that they'd describe as "jamtronica". As an electronic fusion band, Lotus is known for incorporating elements of rock, jazz, electronica, hip-hop, and funk into their sound. The ensemble is made up of Mike Greenfield, Tim Palmieri, Luke Miller, Jesse Miller, and Chuck Morris. Together, they bring the groove and a hard-hitting vibe to the live stage.
Having pushed the jam scene for over 20 years, Lotus isn't stopping any time soon. With 17 albums over the last twenty years, Lotus is proud to share its newest record, Bloom & Recede. The new album takes a different step, making their sound more dynamic, and infusing new textures and influences.
"It was part of a concept we had used previously," Jesse Miller shared in an interview with Goldmine Magazine. "We're both really into dance music and synth stuff so this became a kind of "proof of concept" exercise where we asked ourselves if we could take these ideas and increase that side of Lotus and still make if feel like "Lotus.""
As an instrumental band, one might wonder how they've attracted such a loyal following. Well, its fans say it's all about the live experience. Every performance tells a different story, and as the music leads the crowd into the night, Lotus offers a one-of-a-kind experience that you won't usually get with mainstream beats.
Their third album "Nomad" was nominated for a "New Groove of the Year" Jammy award. It was described by Allmusic as "an electronically inclined jazz-funk outfit". Since then, the band has dropped album after albums that all gain positive reviews, and raving fans at every gig. Relix Magazine described their album "Escaping Sargasso Sea" as "sexy and sophisticated dance music, mature enough to be played in the club or the living room".
Album after album, and tour after tour, Lotus never fails to impress and get everybody dancing on the dance floor. Exploring different genres and influences to infuse into their artistry, Jesse Miller shares "I truly believe Lotus' sound comes from the roots of rock 'n' roll mixed with electronic beats that are popular today. It took a long time for us to finally find a sound we all agreed on. But believe me, we experimented plenty before deciding what sound we were looking for".
As the band takes a big leap this coming year, they're set to bloom and deliver hard-hitting live shows featuring tracks off of their new record "Bloom & Recede". Don't miss out on the party by booking your tickets now!