Stage AE | Pittsburgh, Pennsylvania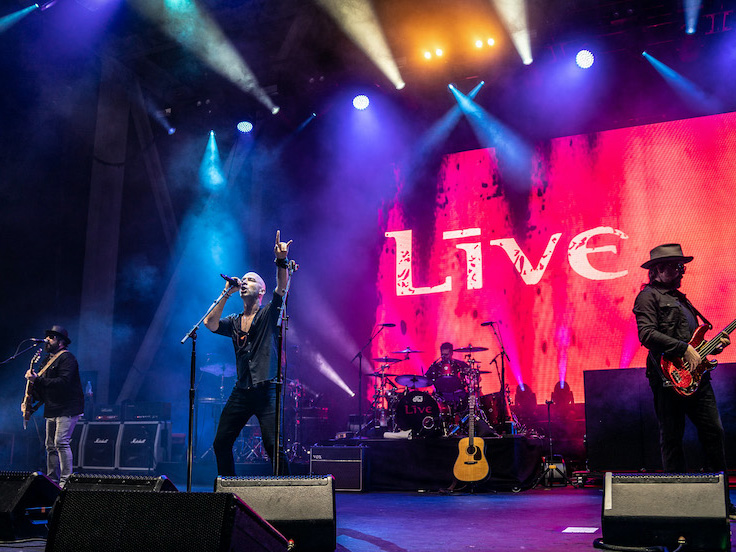 Prepare for a night of classic rock tunes with the iconic band Livetaking over at Stage AE on the 25th of August, 2023! Holding a firm place in 90s alt-rock history, Live has gifted us with deeply moving anthems like Lightning Crashes and I Alone. Their impressive track record, boasting over 20 million albums sold worldwide, bears testimony to their ability to captivate audiences with their potent performances. With the return of original frontman Ed Kowalczyk, the band is rejuvenated and set to enthrall their fanbase all over again. Their latest album exhibits a group that hasn't missed a beat, continuing to create music that resonates with audiences far and wide. Attending a Live concert isn't just a show, it's an unparalleled experience. As they take control of Stage AE, brace yourself for a nostalgia-filled night, singing along to the anthems of your youth. Don't miss the chance to be part of the electrifying journey of a Live concert. Get your tickets today before they run out!
The band Live was originally formed in the small town of York, Pennsylvania and quickly established a notable presence in the music world. Ed Kowalczyk, Patrick Dahlheimer, Chad Taylor, and Chad Gracey are the founding members of this alternative rock group that debuted in 1991 with the album Mental Jewelry. This album showcased their unique and captivating qualities, merging expressive verses and vigorous harmonies, swiftly grabbing the world's attention and developing a dedicated fanbase.
Their sophomore album Throwing Copper rocketed them to global fame in 1994. With timeless anthems like I Alone, All Over You, and the ageless Lightning Crashes it;s no surprise this album achieved multi-platinum status. The band found further success with albums like Secret Samadhi and The Distance to Here further, which further proved the band's status as a force to be reckoned with in the rock arena.
After a brief hiatus, lineup changes, and much anticipation, the original members of Live reunited in 2016, sparking joy among their dedicated fans worldwide. Their comeback was marked by the release of The Turn and Local 717. These albums showcased an evolved sound that still maintained the emotional intensity that originally made them famous.
Fast forward to Friday, 25th August 2023, Live is gearing up to rock Stage AE. This venue, celebrated for its superior acoustics and intimate environment, is an ideal setting to fully appreciate Live's dynamic performances.
Known for their electrifying live shows, Live delivers an energy that reverberates throughout the venue, creating a palpable connection with the audience and an atmosphere that's simply unparalleled. Their performances are an exhilarating spectacle that keeps audiences on the edge, always wanting more.
With their consistent delivery of emotional rock music and a reputation for unforgettable live shows, an evening with Live is a guaranteed musical treat. Make sure to mark your calendar for Friday, 25th August 2023, and get your spot at Stage AE. It promises to be a night filled with iconic anthems, soaring vocals, and an electric energy that'll linger long after the last note fades. Be quick to grab your tickets before they sell out, and prepare to be swept away by the power of the band Live!