The Stage AE | Pittsburgh, Pennsylvania
Country-pop superstar Kelsea Ballerini is all-out, putting her 'heart first as she reveals new tour dates for the second leg of her HEARTFIRST Tour this March. The new set of tour dates will wrap up at Stage AE on Saturday, 18th of March 2023. In support of her newest album, Subject to Change, Ballerini is set to serve alluring performances of her biggest hits and share her new material live on stage. The Grammy-nominated "Heartfirst" singer is set to conquer the stage as she explores changes in life. What won't change is how she definitely puts her 'heart first in everything. Don't miss out on Kelsea Ballerini's finale of this leg of the HEARTFIRST Tour by booking your tickets now!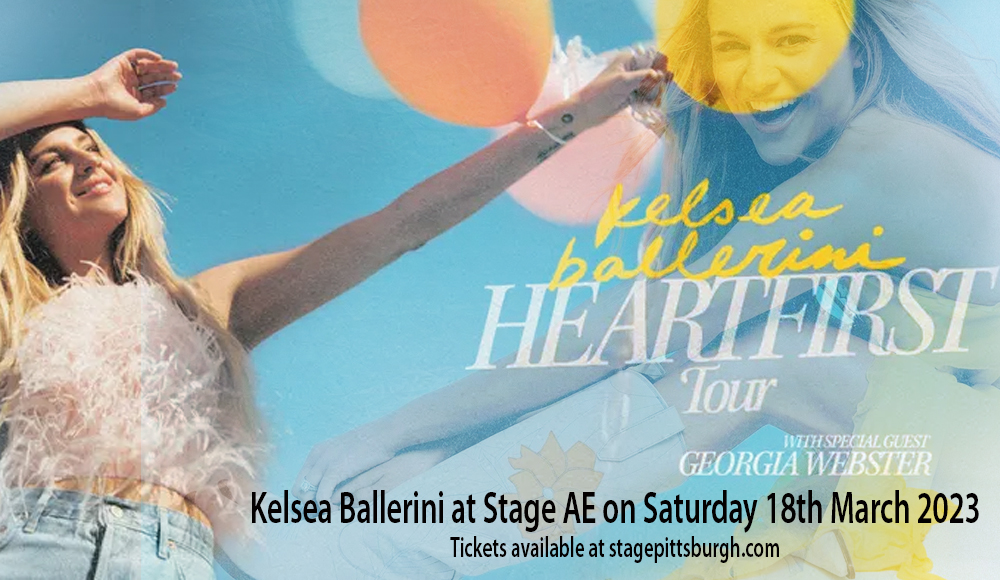 Breaking through the mainstream scene strong with her RIAA Certified-Platinum debut single "Love Me Like You Mean It" in 2014, Kelsea Ballerini quickly became a global favorite in the country-pop genre. The woman served a slew of hit singles, four studio albums, and various awards and recognition including five Grammy nominations.
From church and school choirs, and writing her first song at 12, Ballerini became a global sensation for her heartfelt hits such as "Dibs", "Peter Pan", "Miss Me More", "Hole in the Bottle", "Legends", and "Heartfirst".
At the time of her debut album release, Kelsea Ballerini found herself in the spotlight as every single off of "The First Time" found itself charting at the top of the Country Airplay charts. She was the first solo female artist in the country genre to score a #1 on the Billboard Country Airplay chart with a debut single since Carrie Underwood did with "Jesus Take the Wheel". She's also the fifth solo female country music artist to have back-to-back #1 hits through her second single "Dibs". The album's third single "Peter Pan" also hit #1 on the same chart.
With a successful debut, Ballerini amassed a large following for her country-pop anthems. Now on her fourth studio record, Ballerini took to heart life lessons she faced along the way. As a follow-up to her RIAA Certified-Gold record "Kelsea" in 2020, her new album "Subject to Change" explores forces that led to change and shape her life.
"In my younger years, the idea of change scared me. It had proven to be a faceless force that patterned my past with uncertainty," she shared on Instagram, announcing her new album.
Rather than fighting or going against forces that drive her to change, she now finds "blissful acceptance in the cracks I once cursed but now let the light in, to grow taller within myself."
"Subject to Change" features her new singles "Heartfirst" and "If You Go Down (I'm Goin' Down Too)". Having explored her journey into the spotlight of country-pop anthems, Ballerini took to heart what changed, and took her time to get inspiration from the music she grew up listening to. "Instead of listening to new releases, I listened to the music I grew up on, and that's the influence for this record," she shared. "Really organic-sounding records."
Beyond her new music, Ballerini also previously released her first poetry book "Feel Your Way Through". It featured vulnerable tales of struggles and healing. "I credit a lot of the openness and the more poetic side of the songwriting to the book," she shared.
As Kelsea Ballerini takes her newfound strength and lyrical tales to the live stage on the second leg of her HEARTFIRST Tour, make sure you don't miss out on this chance to catch her performing her biggest hits and new masterpieces on the big stage by booking your tickets now!