The Stage AE | Pittsburgh, Pennsylvania
Iconic alt-rock band Interpol comes to Stage AE on Saturday 10th August 2019! The New York post-punk group, who are supporting British indie legend Morrissey on an extensive US Tour this summer, will be performing tracks from their acclaimed 2018 album Marauders, as well as some brand new material! Joining them as a special guest support act will be eccentric alt-indie band Surfbort!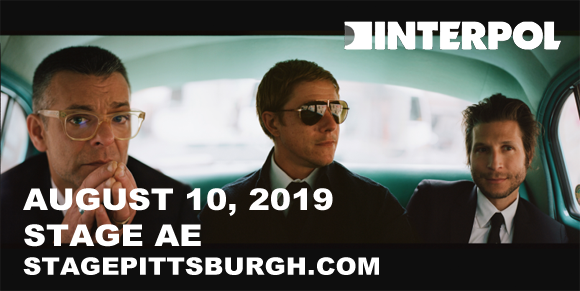 American post-punk band Interpol were an integral part of New York's indie scene in the early 2000s, making their name alongside fellow acts from the Big Apple, including the Strokes, Longwave, the National and Stellastarr. The band found instant commercial success and critical acclaim with their 2002 debut album Turn on the Bright Lights, which reached tenth position on the NME's list of top albums in 2002 and number one on Pitchfork Media's Top 50 Albums of 2002. Their string of hit albums continues with Antics (2004) and Our Love to Admire (2007), which launched several singles and brought the band international recognition. Since forming in 1997, the band has has released eight EPs and six studio albums, including their latest, Marauders (2018), and has sold over one million albums in the US and almost two million worldwide.