The Stage AE | Pittsburgh, Pennsylvania
Raw, unruly passion meets traditional folk instrumentation, topped off with an international flavor, anarchic politics and some pretty intense theatrics, for a night no-one is likely to forget! Gypsy punks Gogol Bordello team up with Celtic Punks Flogging Molly on a co-headlining tour that will inspire chaos, smiles and a hell of a lot of dancing! With support from Mariachi El Bronx (the mariachi alter ego of LA punk band The Bronx), the bands will be heading to Stage AE on Friday 12th June, and it's gonna get rowdy!!!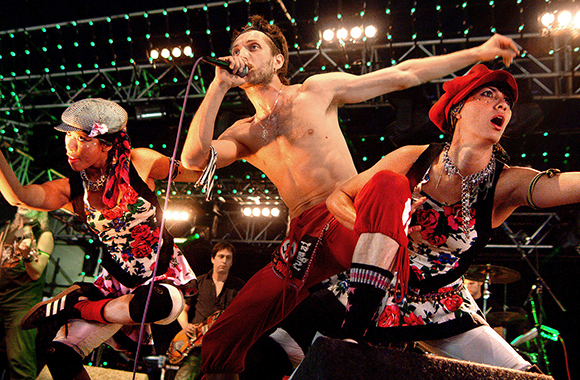 Taking their name from classical Russian writer Nikolai Gogol and the Italian word for brothel, Gogol Bordello are a gypsy punk band formed in Manhatten in 1999. The band has many members that hark from all over the world (currently including Ukraine, Russia, Hong Kong/Scotland, Ethiopia, Ecuador, Belarus and USA) and they are known for their intense, cabaret style shows and extensive touring. Led by charismatic Ukrainian frontman Eugene Hütz, they started life as the unofficial band at an after-hours club called Pizdetz where they later became the house band and Hütz the house DJ. Since then they have released six full-length albums, and one EP, signing to punk label SideOneDummy Records in 2005, and subsequently making their major record label debut on Rick Rubin's American Recordings, a subsidiary of Columbia Records/Sony Music Entertainment, in 2010. They regularly play festivals internationally, and have appeared in a number of popular films, most notably in 2005's Everything Is Illuminated.
Seven piece Los Angeles based Irish punk band Flogging Molly was formed in 1997 by Dublin-born lead vocalist Dave King, formerly of 80s heavy metal band Fastway. The band take their name from Molly Malone's; the bar which gave them a weekly residency in their infancy. According to King, "We used to play there every Monday night and we felt like we were flogging it to death, so we called the band Flogging Molly." Despite their traditional influences, Flogging Molly's music is far from traditional, fusing the sound of beloved Celtic instrumentation with a punk rock energy, bluesy chord progressions and raw, relevant, politically charged lyrics. They have released one independent live album, five studio albums and a DVD/CD combo which was certified platinum. In 2015, Flogging Molly are set to release their first studio album in four years.