Stage AE | Pittsburgh, Pennsylvania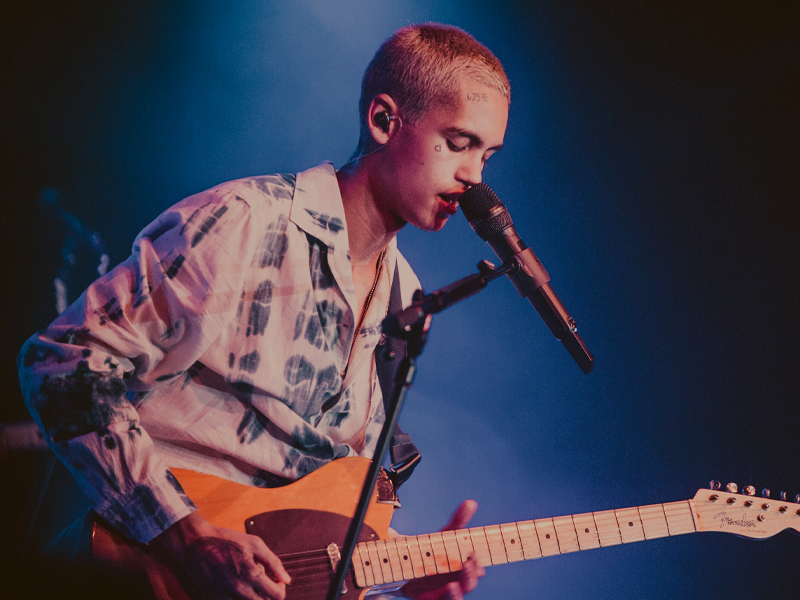 Mesmerizing indie-rock performances embellished with pop, RnB, and hip-hop tunes will make you groove this July 14 as Dominic Fike brings his North American Tour to the famous Pittsburgh venue. Catch the 27-year-old rising star for a night that is pulsating with energy filled with infectious rhythms and captivating lyrics. You will not be only hearing the new songs from his latest album, "Sunburn," but you will also be singing along to his career-defining hits, including "Babydoll," "3Nights," "Elliot's Song," "Dancing in the Courthouse," and many more. Secure your tickets today and prepare for an unforgettable concert as a part of his "Don't Stare at the Sun Tour." If you are one of his loyal fans in Pittsburgh, you don't want to miss this show. Witness Fike's extraordinary talent before he skyrockets to global superstardom. Click the "Get Tickets" link to reserve yours today.
Dominic Fike is a 27-year-old Grammy award-winning American singer-songwriter and actor who started his career as a small online artist and is now one of the most sought-out music performers of this generation. His music ranges from alternative hip-hop and indie rock, which is sure to catch any young adults to party and vibe to. The unique blend of melody, lyricism, alternative, and indie got him to the top of the charts. He released solo works on SoundCloud, eventually leading him to be discovered by Columbia Records, and was signed to a multi-million-dollar deal. From then on, his success finally took flight as "Don't Forget About Me, Demos," released in 2018, captured a lot of attention. The set's opening track and fan-favorite bop, "3 Nights," topped a million streams before the end of October.
Fike's continuing popularity with "3 Nights" racking over half a billion streams enabled him to collaborate with many artists. These include the Texas rapper and singer-songwriter Kevin Abstract and BROCKHAMPTON, with whom he released the breakout song "PEACH."
Released in 2019, the song reached over 4 million views. Fike released two singles later that year, "Açaí Bowl" and "Roller Blades," and became multiple banger singles along with "Phone Numbers." Fike became a featured artist on mainstream star Halsey on her 2020 album called "Manic." Finally, in 2020, his debut album "What Could Possibly Go Wrong" was released, peaking at number 41 on the Billboard 200 for a week. Fike's performance on the HBO teen drama Euphoria opened a few windows of opportunity for Fike as an actor. His featured song on the series, along with Zendaya's "Elliot's Song," peaked in the charts in the US, Ireland, and the UK.
Teasing an exciting album this year, get a chance to watch the artist live as he travels across two countries in support of his new single "Don't Stare At The Sun." Fans are ecstatic to know that Fike's second album, "Sunburn," is set to release this July. If you're looking for a worthwhile music experience on a Friday night, Fike will be at the Stage AE this July 14th to give you a taste of his 2023 album! Get your tickets now!