The Stage AE | Pittsburgh, Pennsylvania
Rave-rapping international megastars Die Antwoord are bringing their zef style to Stage AE on Wednesday 12th August for an insane night of infectiously catchy tunes, shockingly messed up images, high-energy entertainment, and dancing like you've never danced before! The platinum haired South African duo of Ninja and Yolanda Vi$$er, alongside their trusty DJ Hi-Tek, will be keeping fans pumped with their gangster beats, sick lyrics and propensity to rock out in their underwear! You've never seen anything like this! Lekker!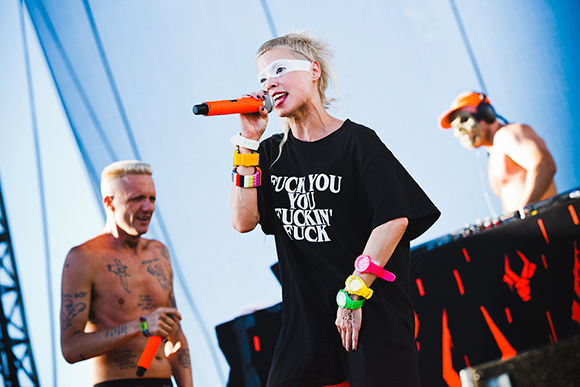 South African rap-rave group Die Antwoord (Afrikaans for "The Answer") started in Cape Town in 2008. Formed of rappers Ninja and Yolandi Vi$$er, and DJ Hi-Tek, they are noted for their striking image, incorporating elements of "zef" culture; described as modern and trashy, appropriating out-of-date, discarded cultural elements, especially those of working class white Africans residing in Cape Town . Ninja and Yolandi are also known as conceptual artists Watkin Tudor Jones and Anri du Toit, who were part of the South African hip-hop scene for many years, fronting acts such as MaxNormal.TV and The Constructus Corporation, before assuming their current roles. Their debut album $O$ was made available as a free download on their official website, and in late 2009, South African cinematographer Rob Malpage co-directed (with Ninja), co-produced (with Zef Films and Die Antwoord) and filmed the video for their single "Enter the Ninja", which became a viral video on the internet nine months later, delivering millions of hits to the official Die Antwoord website, eventually crashing the website's server. The group were briefly signed to Interscope Records after this overnight success, but left to form their own label Zef Recordz after a creative dispute and released their album Ten$Ion through it. Their third album, Donker Mag, was released on 3 June 2014 and in February 2015, Die Antwoord announced in an interview in Paris that their next album would be titled Rats Rule and would feature production from DJ Muggs of Cypress Hill.