Stage AE | Pittsburgh, Pennsylvania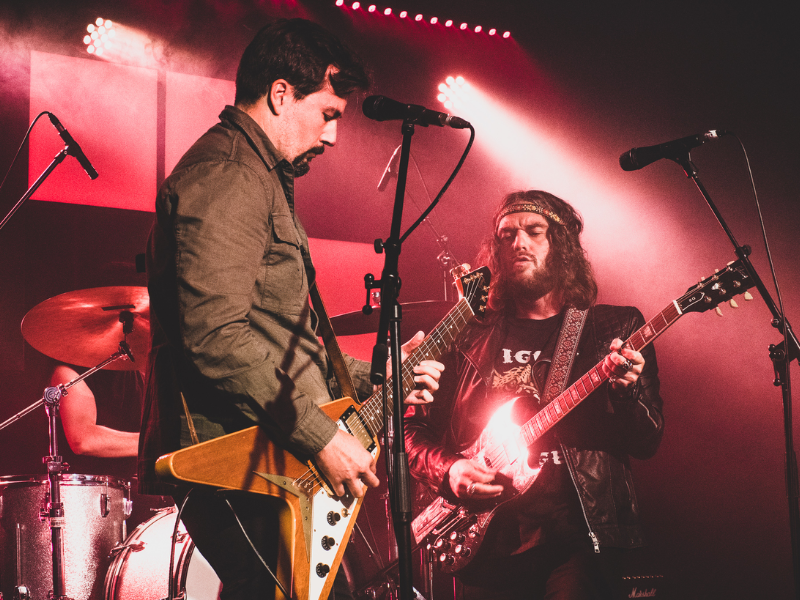 Spinefarm Record's Dead Poet Society has been hailed as the musical needle in an overcrowded haystack! Catch the four-piece live at the Stage AE in Pittsburgh on October 1st, 2023! Following the success of their recent EU-UK tour, their upcoming Live in Autumn Tour will perform in over 17 cities around the U.S. within a limited span of 2 months. The show will also feature local band Jack Swing and alternative metal group Donella Drive to spice up their opening acts. With the release of their debut album in 2021, the Berklee-formed group has been changing the world with singles like ".intoodeep.," ".Coda.," and the ever-popular ".Loveyoulikethat." This New-Age Rock band group puts a Texas-style blues spin on Led Zeppelin-esque acoustics to form a unique genre that's never been done before! Head down to the greatest hybrid indoor-outdoor concert hall in Pennsylvania and party with a crowd of thousands! Invite your friends and purchase your tickets together now!
This coming fall, the new-age rock band, Dead Poet Society, is marching to the Stage AE in Pittsburgh on October 1, 2023, with special performances by Jack Swing and Donella Drive!
Their 10-week Live In Autumn Tour will premiere in Oklahoma and visit multiple cities around the U.S. before concluding in Los Angeles, California. Rock group Donella Drive will open for the band during the tour's initial weeks, while alternative indie group Public Theatre will perform for them on the last week. Expect both guest bands to spin you into a good time in October 1st.
Dead Poet Society, a Los Angeles-based rock band is known for using fretless instruments which allows them to express their freedom in venting their anger and hatred through their eccentric songs. All members met at college in Boston, including Jack Underkofler on lead vocals and guitar, Jack Collins on guitar, Will Goodroad on bass, and Nick Taylor also on bass.
Frontman Jack Underkofler explained that "We live in a world where we try to make sense of things and apply parameters and rules so that we can understand it, and you can't do that with art; you just can't. There are no rules; there are no parameters. There's all these ideas of what's technically right and technically wrong when it comes to music theory. Those are general concepts that do apply to a lot of things, but the rules are being broken all the time. There is no structure to art."
In 2013, they issued an EP titled "Weapons." Although it originally struggled to take off, it eventually developed a following in Mexico, where the band organized their first major tour. Two more EPs, "Axiom" (2015) and "Dempsey" (2016), were released when Dylan Brenner took over for Taylor on bass. After settling on the new lineup, they created their debut album entitled "-!-", which Spinefarm Records released in 2021.
"The prominent vocals Underkofler produces alongside the group's technique-tinged music is the new resurgence of rock music bleeding with the equal brash attitude of Guns N' Roses, but with a classically trained foundation.," American Songwritershares.
The Stage AE in Pittsburgh is one of the most sought-after events places in Pennsylvania. The venue can accommodate 5,500 for the outdoor lawn, 2,400 for the indoor music hall and 400 inside their exclusive club. Be part of history and purchase your tickets today!