Stage AE | Pittsburgh, Pennsylvania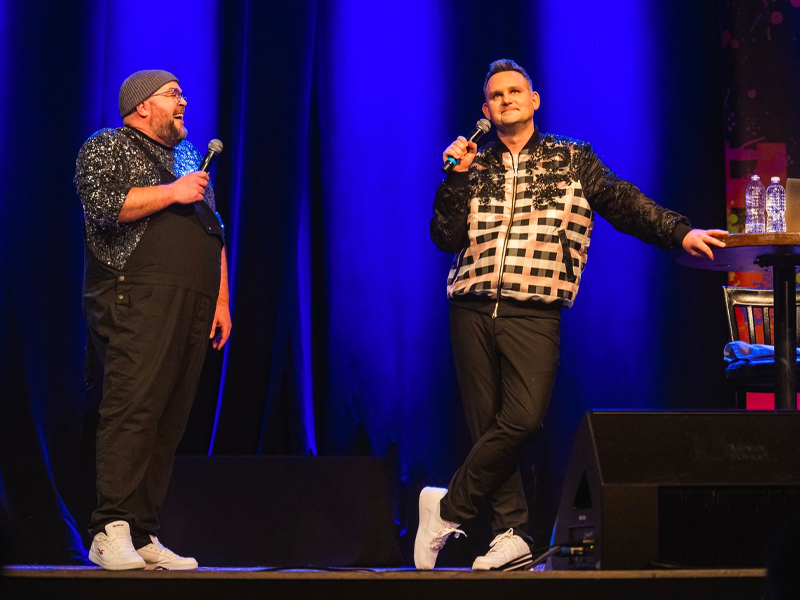 Double the fun and laughter this summer and immerse yourself in the stand-up comedy of the royalty duo Darcy and Jer. Join hundreds of Pittsburgh comedy fans this June 22 at the iconic Stage AE for an evening filled with rib-tickling antics as your favorite content creators conquer the comedy stage. The proud members of the LGTBQ+ community have captivated fans with their joyful personalities, unique content, and tasteful sense of humor. And we can expect that the on-screen charisma of the duo will transcend on stage as they bring their "The No Refund Tour" to Pittsburgh. From the moment Darcy and Jer ventured into the comedy scene, they have been in high demand. And if you want to witness how these two comedians bring the house down, you should get your tickets now. Tag your friends along, hit the "Get Tickets" link, and prepare to be rolling down the aisle in this memorable comedy show that will kick off your summer!
Stand-up comedy with two comedians in front is heaps of fun. The jokes are twofold funny, and there is much room to be entertained with two minds working together to leave you chuckling. This is how Darcy & Jer works. The power couple is meant to be with each other, and their great chemistry is evident on stage. They have been together for 20 years and have found the best way to camaraderie. If you are looking for fun, why not get it double and see their live show coming to cities near you?
Darcy Michael has a career in comedy spanning two decades. He became famous after his filmed special One Skinny Bitch took off in 2012. In 2014, he competed in Sirius XM's competition for Top Comics. This opportunity led to him being nominated for Best Breakout Artist during the 2014 Canadian Comedy Award. Four years after, he was given a chance to become the first comedian to have a special on CraveTV in celebration of queer-created comedy. Darcy Michael Goes to Church was praised for its gender-bending and queer representation. Now Magazine even calls it "the queer stand-up special you've been waiting for."
In 2021, while everyone was stuck at home, Darcy created a Tiktok account alongside his husband, Jeremy Baer. They began posting videos about their daily life, thinking they were only doing it out of boredom. Sooner rather than later, their videos became sensations. They have discovered that they can do it together. For only three years, they have acquired over three million followers on the social media app, four million more on many platforms, and 50 million video views monthly. They have become one of the leading comedians in content creation today.
While receiving internet buzz, the couple aims to encourage inclusivity, respecting all, from race and sexuality to neurodivergence. Their shows will always be safe spaces for everyone to enjoy.
This year, the lovely couple will be bringing their comedic flare to many cities in North America for their "No Refunds" tour. See them at Stage AE on Thursday, June 22. Join in on the fun and be outrageously entertained!