The Stage AE | Pittsburgh, Pennsylvania
The potent mix of progressive rock music are reserved only for experts. If it falls on the wrong hands, your concert experience could go kaput. And for this kind of heady concert mix, who you gonna call? Coheed and Cambria & Mastodon are your go-to bands, the valiant rockers who could save the day! Together, both will co-headline "The Unheavenly Skye Tour." And they're scheduled to mount the Stage AE on Monday 10th June 2019. The 'cool tour' alarm bells have sounded off fans from all over, so expect ticket buyers coming in troves. Don't be left behind, get your tickets now!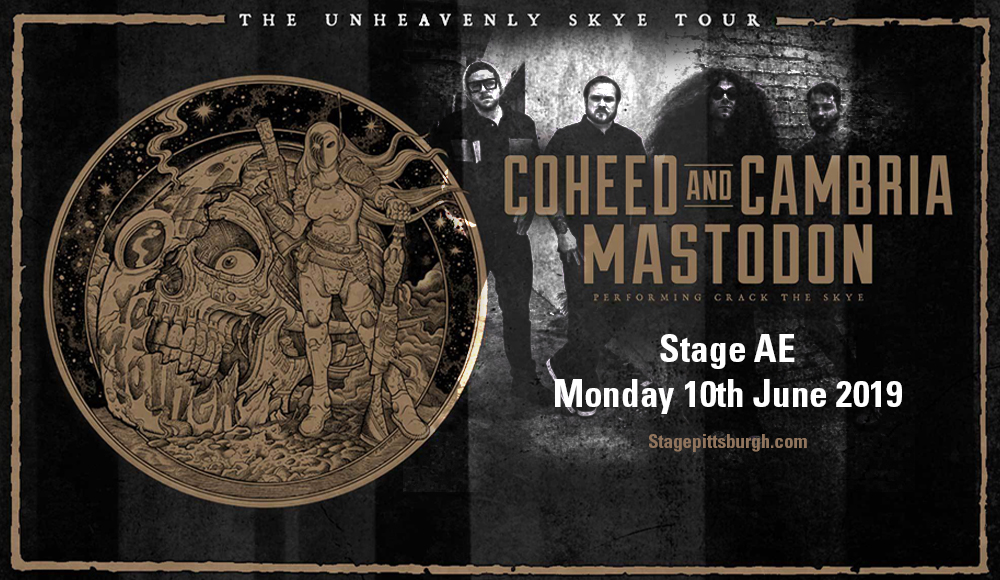 Coheed and Cambria and Mastodon have joined forces for a double bill concert tour dubbed as "The Unheavenly Skye Tour." Mastodon their 2009 album, Crack the Skye, in its entirety; while Coheed and Cambria will be their usual ultra-cool enigmatic prog rock mavens who will be dishing out the hits plus ditties off their brand new album "The Unheavenly Creatures".
Mastodon represents the so-called sludge metal or progressive metal movement; delving inspiration from literary works such as the classic novel "Moby Dick" by Herman Melville; and so-called weird science themes of wormholes, Stephen Hawking's theories, and out-of-body experiences. Their body of work is also largely used in video games.
In between genre experimentations, band formations, and band member changes, Coheed and Cambria now consist of founder Claudio Sanchez, Josh Eppard, Travis Stever, and Zach Cooper. As they dabbled into different musical elements such as punk rock, metal, and acoustic rock, Coheed and Cambria were also heavy into science fiction. They had a cult following indeed, yet it wasn't until the release of their second album in 2003, "In Keeping Secrets of Silent Earth: 3" that they had their first taste of mainstream success, which also gave them a certified gold album. They started touring relentlessly with other rock bands, thereby exposing them to a larger audience. They nicknamed their fans Children of the Fence (another comic reference), and these kids multiplied quickly in leaps and bounds.
This lethal combination of Coheed and Cambria & Mastodon is heating up stages in many parts of the country. Feel the heat and be there as it explodes!