The Stage AE | Pittsburgh, Pennsylvania
Circa Survive are finally home! Playing their Blue Sky Noise 10 Year Anniversary Tour right here in Stage AE on Tuesday 7th April 2020, home town fans will be buying these tickets up fast so get them quick! The Philly boys Circa Survive have really made a name for themselves in the indie music scene since starting out in 2005, and they are now touring to celebrate ten years of their third studio album, Blue Sky Noise, released in 2010.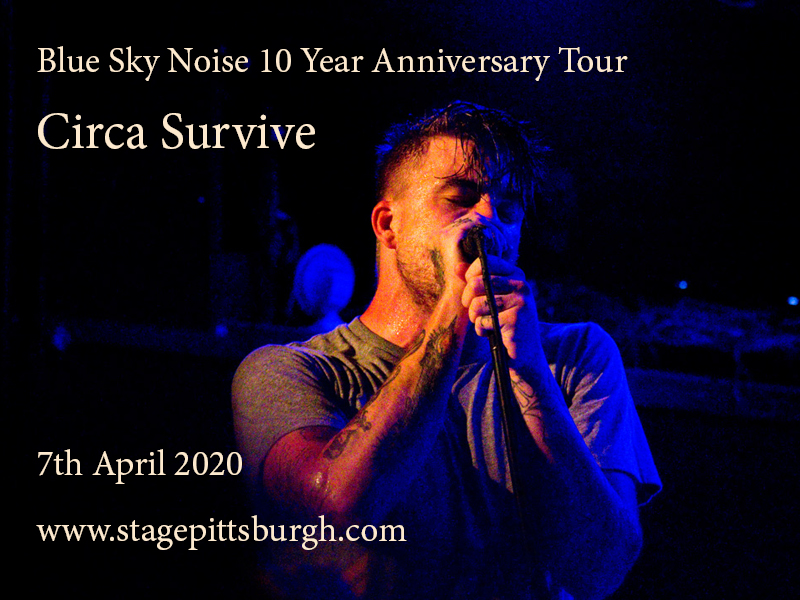 This album marked a change in stylistic direction for Circa Survive as it deviated from the band's previous blend of post-hardcore and progressive rock toward a more refined, indie rock influenced sound. The critics all agreed, it was a great change of pace for the band and proved to be very successful. Cloaked in originality, Blue Sky Noise is a record you think you should put down, but can't because it's unmistakable creativity and appeal smacks you in the face every time you're not tuned in.
"There's noise and then there's beauty. The third offering from the Philadelphia experimental outfit is the latter. Blue Sky Noise begs ears to believe they've never listened to past works and delivers a disc that's as calm as summer clouds, but more raw and emotional than a high school break-up. None of the 12 tracks appear to be as noticeably abstract as the Circa Survive most have come to know, but the hints littered in each unconventional riff and poetic outcry by singer Anthony Green create an eccentric portrait that's intriguing as the record's artwork." – Joshua Khan, Blare Magazine. 2010.
Circa Survive draw influences from soft rock, post-hardcore, experimental rock, emo, progressive rock, art rock, and pop musicians. According to lead singer Anthony Green, Circa Survive have been influenced by Deftones, Paul Simon, dredg, and Björk. Green cites Nirvana as a major influence, with Circa Survive frequently performing covers of Nirvana songs. When Blue Sky noise was released back in 2010, Myspace Transmissions (If anyone reading this is old enough to remember Myspace?) released a live EP version along with a cover of the Nirvana song "Scentless Apprentice".