Stage AE | Pittsburgh, Pennsylvania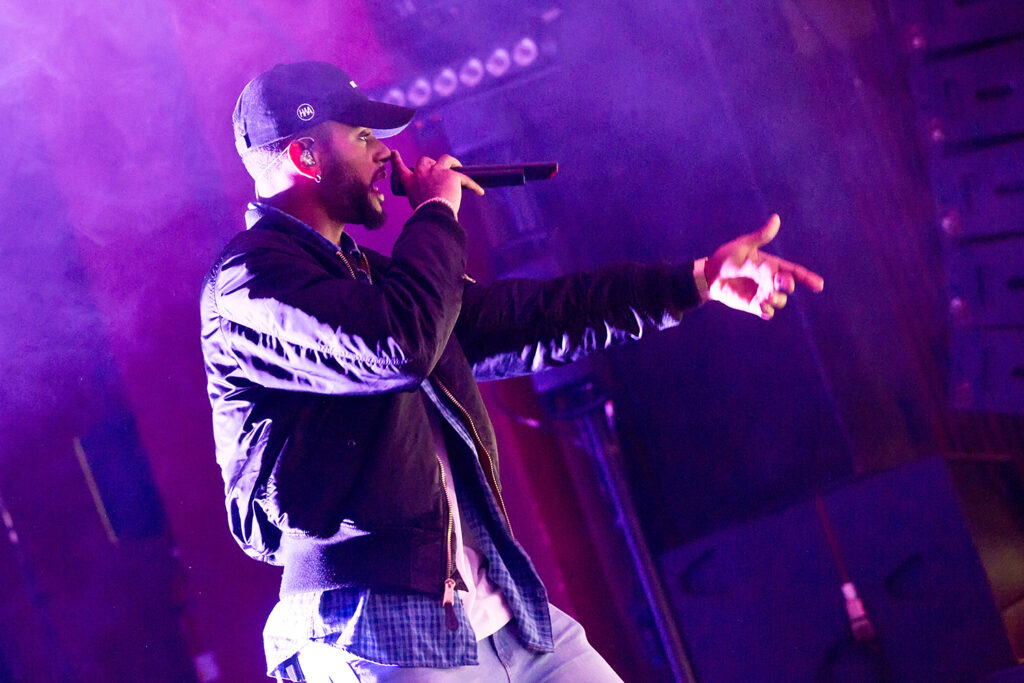 LEGENDARY rap superstar Bryson Tiller is making a triumphant return to the stage with his much awaited "Back and I'm Better" tour, coming to Stage AE on Thursday, June 29th, 2023. Expect MAD RHYMES as the Platinum Award Winning hip hop artist is set to perform his 2022 banger "Outside," sampling the ICONIC "Wait" (The Whisper Song) by Ying Yang Twins.
This tour comes hot on the heels of Tiller's latest album, Serenity (2022) and the deluxe edition of ANNIVERSARY (2021). In his own words, "Back and I'm Better" will take "a trip to the past and giving y'all a glimpse of the future. Five whole years without touring. Time really does fly… See y'all soon."
Tiller will be joined by support act DJ Nitrane, who is sure to add ELECTRIFYING energy to the night with R&B hits like Beyonce's "Drunk in Love" and a medley of SZA songs including "Kill Bill" and "Nobody."
Grab your tickets today!
Bryson Tiller proves he's back and better by announcing additional dates for his sold-out tour. This epic trek, which kicked off in May, now features 32 electric shows throughout North America.
Known for his crowd pleasers, Tiller is a self-made superstar who is recognized as one of the key breakout stars in 2010s contemporary R&B with his own niche that has earned him multi-platinum certifications, Grammy nominations, and a loyal fanbase.
Hailing from the streets of Louisville, Tiller built his fanbase on SoundCloud with uploads "Don't", "Break Bread," and "Let 'Em Know", before inking a deal with RCA for his major-label debut LP, T R A P S O U L (2015). The descriptively titled parent album lands somewhere between Lil Wayne and Omarion, his two biggest inspirations.
While he's indebted to the slow jams that he grew up listening to, Tiller has carved up his own brand of street soul that resonates with fans. His performances are nothing short of mesmerizing, straddling the line between hip hop and R&B.
Tiller continued to reach new heights with his subsequent studio albums True to Self (2017) and
A N N I V E R S A R Y (2019), either topping the Billboard 200 or reaching the chart's Top Ten. Meanwhile, his chart-dominating collaboration with Rihanna on DJ Khaled's single "Wild Thoughts" won Hip-Hop Song of the Year at the iHeadRadio Music Awards and Best Collaboration at the BET Awards.
The "Back and I'm Better" tour promises an unforgettable experience, combining nostalgic 90s arcade-style visuals with a lineup of classic hits. Fans can expect chart-topping hits "Exchange," "Don't," "Let 'Em Know," "For However Long," and plenty of underrated gems like "Just Another Interlude" and "Canceled" that will have everyone vibing.
Tiller will be joined by the incredible special guest DJ Nitrane, who has risen to prominence as one of the most skilled DJs of his generation. Drawing inspiration from Dj Ross One, legendary DJ Jazzy Jeff, and Power 106 heavy hitters Dj's Vice and Eric DLux, DJ Nitrane has honed his craft, even spinning at the hottest clubs at the age of sixteen.
Tickets already on sale, get yours today by clicking the link!