The Stage AE | Pittsburgh, Pennsylvania
Powerhouse punk rock luminaries Bad Religion and Alkaline Trio have hit the pedal to the metal as their tour bus is bound to hit several cities and states for their co-headlining tour. The COVID-19 pandemic has put their tour to a halt last year in the midst of a tour celebrating Bad Religion's 40th anniversary Picking up from where they left off, Bad Religion and Alkaline Trio fans can be assured of their intense presence come Tuesday 9th November 2021, as Bad Religion & Alkaline Trio heads out to the Stage AE for yet another rip-roaring live performance. Save the date and pick your spot where you'll spend rocking the night away. Get your tickets now!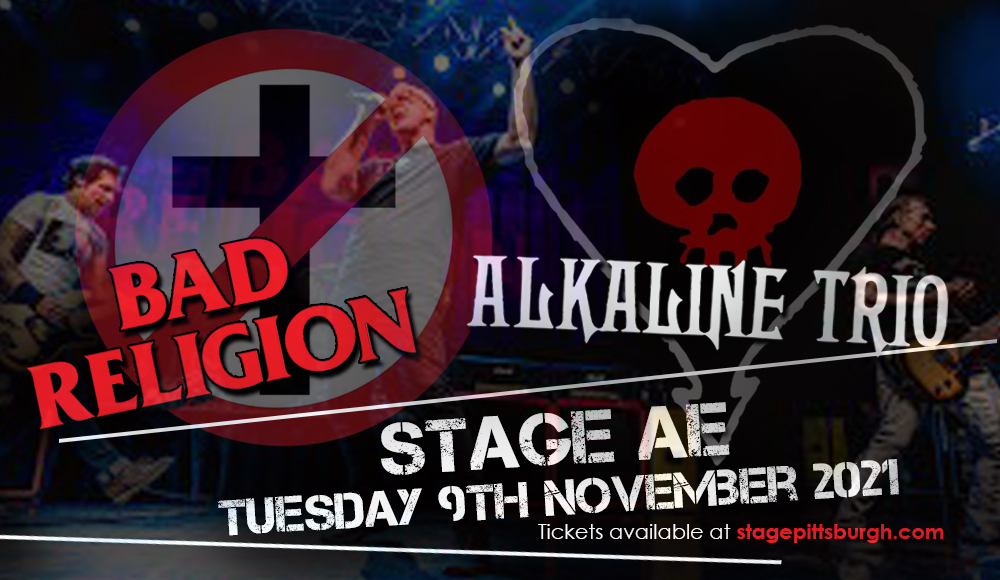 Sticking it to the man is just so punk rock, and Bad Religion has been a forebearer of this movement through their fierce, fearless, and furious music. Their lyrics cover a range of heated discourse on religion, politics, society, the media, and science. "The band has always stood for enlightenment values," co-songwriter and guitarist Brett Gurewitz explains. "Today, these values of truth, freedom, equality, tolerance, and science are in real danger. This record is our response," — pertaining to Bad Religion's seventeenth album release, their 2019 studio album, "Age of Unreason".
Bad Religion was formed in Los Angeles, California in 1980, but has gone through multiple line-up changes, with singer Greg Graffin being the band's only constant member. Their rock-solid, anti-establishment statement has amassed legions of followers. Regarded to be one of the best-selling punk rock acts of all time, Bad Religion to date has released seventeen studio albums, two live albums, three compilation albums, three EPs, and two live DVDs, with a whopping sales of over five million albums sold worldwide.
Hence it is no surprise that Bad Religion has become an influence on fellow punk-rock outfit Alkaline Trio. "Bad Religion was one of my first loves," says Alkaline Trio, co-lead vocalist/guitarist Matt Skiba. "I remember exactly where I was the first time I heard Suffer. They are one of the very reasons I started playing punk rock music and continue to today. This tour is going to be epic on many levels. We've done Warped Tour, and Festival shows many times over the years, but this will be the first time it's just us, and I couldn't be more thrilled!"
"This tour is special," explains Bad Religion co-songwriter and lead singer Greg Graffin, "not only are we celebrating the return of live music, but we get to do it with Alkaline Trio, who are such a great band, really excited about this!"
Save the date: Bad Religion & Alkaline Trio at Stage AE on Tuesday 9th November 2021. Book your tickets now!